Before You Download Your Items, Check This Out…
Attention Self Publishers: This DIY Kids Activity Book Kit Helps You Publish Quick
And Reach A Popular Coloring & Low Content Book Niche
Tap Into The Halloween Book Niche To Create Low Content Books
Without Spending Hours Creating Graphics And Pages
Get Your Product Ready for Halloween Quickly with New Halloween Monsters and Activity Book Templates In This DIY Kit
These are 100% Original Hand Drawn Line Art Characters (NOT Created with AI)
Have a Halloween product ready
Create low content books or products quickly with 31 graphics and 24 templates
Get 31 Fun Halloween Monsters and Elements you can use in your commercial projects
Licensing terms made easy so you can feel confident in your work for sale
Create fun kids or adult print-on-demand products, coloring books, journal/planner covers, printables, and more

Have you wanted to get into the Halloween book niche, but didn't know how to?
Or wanted to publish a kids' activity book, but it took too much of your time to create the pages?
If yes, then I have a solution for you that will help you tap into the Halloween book niche AND create your kids' activity books faster than before.
Get Cute, Unique Halloween Line Art And Activity Book Templates To Create Your Coloring and Activity Books Easily
Plus, Add Other Graphics To The Templates To Create All Kinds of Activity Books Year Round
In Fact, Did You Know The Halloween Niche Is Evergreen?
Look! You can see the year-round searches, according to Neil Patel's Ubersuggest below! And you will even see that the highest searches are in November! ? Which means if you get this kit now, you will be ahead of the game!
Plus, there are YouTube videos and channels dedicated to Halloween that get thousands up to millions of views! This channel got over 2 million views within 1 year's time!
Tap Into The Halloween Coloring & Activity Book Niche Quickly And Profit Not Only With Halloween, But Also With Kawaii Drawings
Yes, Kawaii Drawings are a unique niche of line art that is also popular YEAR-ROUND! And Growing! See the stats below to see an average monthly search volume of 2,900 +++ up to 8,100 around July through October!
See All The Halloween Monsters And Kawaii Graphics You Get In This Kit
# 1: 16 Line Art Monsters
Hand-drawn monsters – 8 in a dancing pose and 8 in a scary pose. You receive PNG files in black and white at 300 DPI with transparent backgrounds.
Pick Your Halloween Monster To Turn This Into…
This Halloween Tic-Tac-Toe Page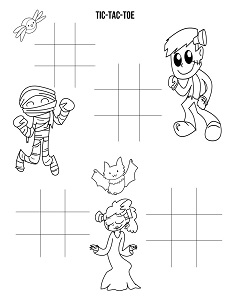 Plus Combine Other Elements To Create This
#2: 5 Line Art Backgrounds – Dance Floor and Spooky Houses
You get 2 disco dance floor line art backgrounds and 3 spooky line art houses to use in your low content books and products. Each comes as a PNG file with transparent background at 300DPI.
#3: 15 Kawaii Halloween Elements
You get 15 Kawaii inspired hand-drawn Halloween elements to use in your low content books and products
#4: 24 DIY Activity Book Template Pages
And to add to this kit, I am giving you templates to create your kids' activity books quickly so you can publish them without spending hours or days getting them ready. You get a PowerPoint file in 8.5×11 size pre-formatted for KDP books with 24 different activity book pages
Watch This Video To See How Easy It Is To Use These Templates
See The Activity Book Templates
This Book Belongs To Page
2 Descramble the Words Activity Pages
3 Circle What is Different Activity Pages
Draw or Decorate Activity Page
3 Draw It Grid Activity Page
If I Were Write/Draw It Activity Page
2 Bookmark Coloring Pages
2 Alphabetical Order Activity Pages
Make Words from a Word or Phrase Activity Page
2 Write It/Draw It Activity Pages
Tic-Tac-Toe Activity Page
2 What Comes Next Pattern Activity Pages
3 Counting Activity Pages
Word Search Activity Page
What Can I Create With These?
You get Commercial Use license to use these line drawings in low content books, print-on-demand products, and for client projects.
For example, you can use them to create:
USE THESE FUN HALLOWEEN LINE ART DESIGNS TO CREATE PRODUCTS QUICKLY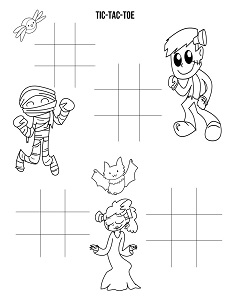 01
USE TO CREATE LOW CONTENT BOOKS
Create it once. Have a product to list for sale over and over again.
The hard work is already done for you. After all, it's not how hard you work that determines success — it is whether you use the resources available to you and create products consistently! That's why Apple, Nintendo, AT&T continually produce the next best thing year after year. From phone cases to greeting cards to pillows, mugs, and more, you can use the brushes or high-resolution PNG files to create low content books for sale. Add a whimsical, minimal or styled watercolor design to them that stands out from the rest. Order today!
You receive broad commercial rights to use these files for your personal, commercial and client projects
You must use these files in an "end product," whether that is a logo, blog graphic, pillow, or hero header, it needs to be used in conjunction with another graphic or text.
You must add to the design of the graphics, create a scene, or use text. This adds to the item and implements it to where it is customized and different from the item by itself.
You cannot re-sell or re-distribute any of these items
Cannot use these as standalone PNGS or brushes of your own for re-sale as stock, in a tool or template, or with source files.
Can't redistribute the item or make it available even with modifications
Cannot list or sell on auction sites
Cannot add my name, business name, or connect me with your content in any way unless you are selling as an affiliate
You must not allow end users to extract the source files or items and use it for their own use

Add Fun Halloween Dancing Monsters and Elements To Low Content Books, Print-On-Demand Products, & More
Use With PowerPoint, Photoshop, Illustrator, Or Any Graphics Software Your Use
Easy to Use Coloring Page Graphics for PowerPoint (PNG), Photoshop (ABR), &Illustrator (AI)