Bright & Fun Brandable Ebook

Easy to Use Ebook Template For Printing or Opt-In Online – Bright & Fun Design – Canva and Powerpoint

Bright & Fun Ebook Template in Canva and Powerpoint!

Each one is easy to use to change your text, font, and colors. The ebook template comes in 300dpi for printing and you can save it in 100 dpi or less to add online for your opt-in freebie or product.
Here's What's Inside The Bright & Fun Ebook Package
#1: COVER PAGE AND 15 INSIDE PAGES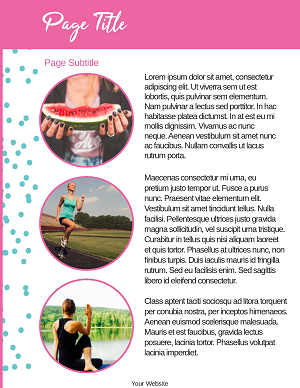 FULLY EDITABLE FILE FORMATS
ADD YOUR BRAND'S STYLE IN THE HEADER, FOOTER AND CHANGE THE FONT AND TEXT
File size 8.5×11 (300 dpi for print) (72 dpi for web)
Full-color PPT and Canva files
The template pack includes 8 stock photos from Pixabay.com that you can download and use in your ebooks.
Fonts are free and downloadable for you to load into your graphic program. I've included the font name and link for you
Comes with video training and a helpful guide ebook that lists the information and instructions you need to use the files
Tips or Steps Pages (Style 1)
Tips or Steps Pages (Style 2)
Inside Pages With Call-outs or Quotes (Style 1)
Tips or Steps Pages (Style 3)
Tips or Steps Pages (Style 4)
Ready To Get Started Page
#4: DONE FOR YOU BRANDING
CAN BE USED AS BRANDING FOR YOUR WEBSITE OR OTHER CONTENT
All the pages you need for a quality, branded opt-in or ebook product you want to sell
You can use the design to brand your website and business cards the same way
#5: RECEIVE FREE VIDEO TRAINING ON HOW TO EDIT YOUR FILES
QUICK & EASY, STEP-BY-STEP TUTORIALS ON HOW TO EDIT THE FILES FOR YOUR BRANDING
USE THIS E-BOOK TEMPLATE TO EARN MONEY
Create an opt-in with your free offer using the ebook template.

Add your How-To or Step-By-Step offer to the ebook template and use it as an opt-in.

Having a branded opt-in increases the value of your offer. With the Bright & Fun ebook template, you communicate to your audience that your brand is playful, fun, and engaging. Order today!
Brand your products!

Use the Bright & Fun ebook template to add your tutorials and classes, recipes, yoga poses, healing techniques, crystals, coaching, and more. Add your ebook to the shop or to your classes and voila, you have a product. Order today!
Can Be Used As Your Branding (Not Exclusive Rights)
Can Be Used For Ebook Opt-Ins And Products As Your Brand
Can Be Edited With Your Brand Colors And Styles, Whatever You Can Imagine
Can Be Printed And Used As A Physical Book Or Ebook With Your Content
Can Be Used In Commercial Projects
Here's What You Cannot Do
Cannot Resell This Template As Your Own
Cannot Sell or Give Away This Template with PLR Rights or Master Resell Rights
Cannot Give Away or Sell Source Files to Clients, Customers, or Anyone Else As Is
Cannot List or Sell on Auction Sites As Is Without Rebranding and Adding Your Own Content
Cannot Add My Name, Business Name, or Connect Me With Your Content In Any Way
Get Instant Branding With The Bright & Fun Ebook Template!

Easy to Use Ebook Template For Printing or Opt-In Online – Bright & Fun Design – Canva and Powerpoint