Would You Like To Discover How To Create Passive Income Products With Simple Watercolor Paintings?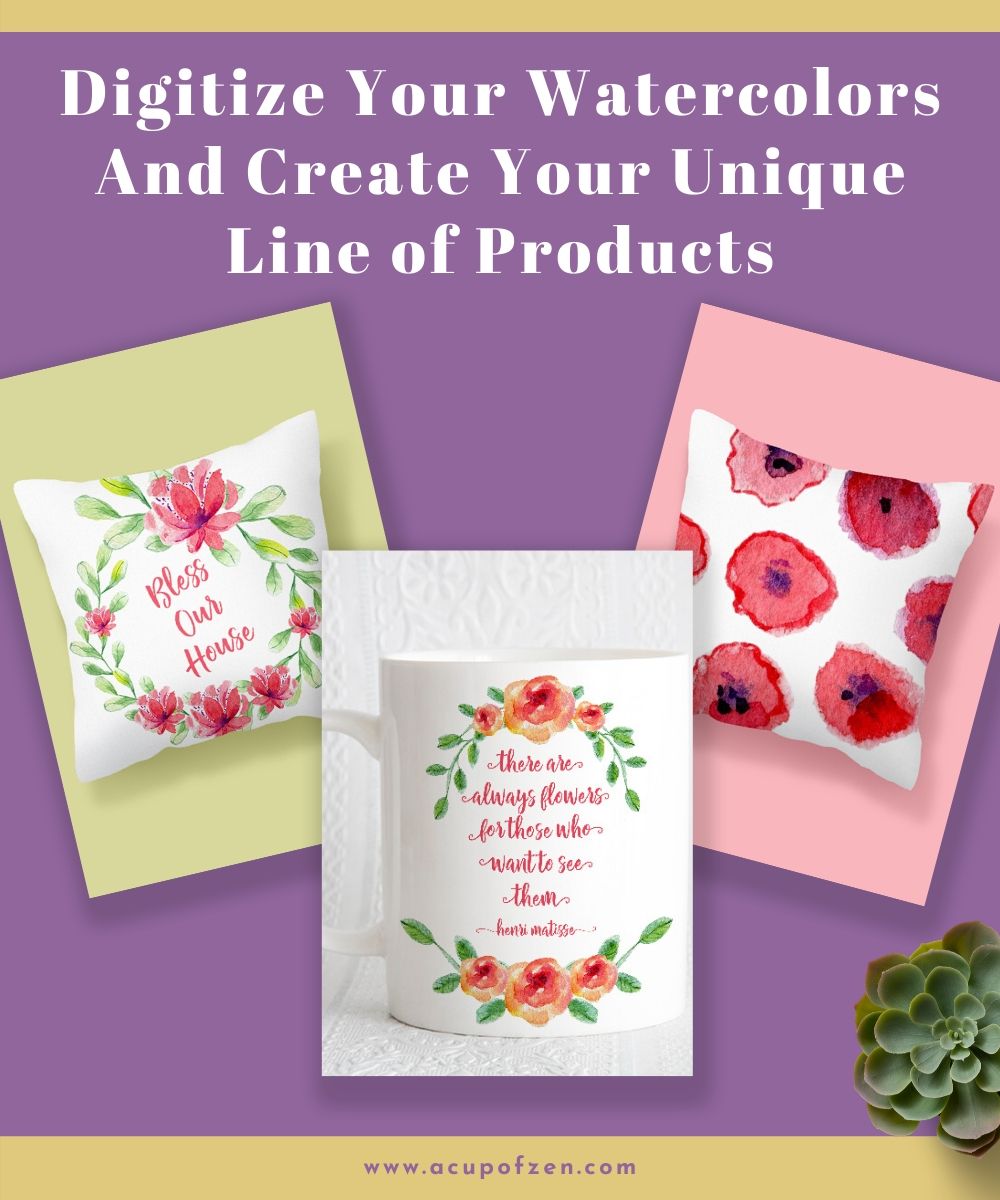 If you said yes, then you can learn how to digitize your watercolor paintings easily.
Even if you have never painted with watercolor before, you can learn simple, in-demand watercolor paintings that will give you a product to sell right away.
And let me mention that…
There's no steep watercolor painting learning curve (You don't have to spend all day trying to perfect your technique)
You can create a watercolor piece in less than 20 minutes and profit with it in multiple ways
You can use digitized watercolors as products or free opt-in material to generate traffic
Total Value = $197
Only $27
Use coupon code to save $10: digitize
No Matter Your Tech Skill Level, This Will Work For You

I show you step-by-step the exact way I digitize watercolors. You can watch over my shoulder and follow along to quickly grasp the steps. You will be able to accomplish this task easily! You will need Photoshop to follow along, and I show you exactly what to do so that it is easy for you to do this. You don't have to take years of classes to profit from watercolor paintings and products!
You remember the days when you'd visit a museum and in the gift shop they'd have the most awesomest posters for sale?
Back then printing wasn't as easy to do as it is now. Museums sold a TON of posters, buttons, and other cool products made from just 1 painting or photograph.
Now you can take 1 painting of a flower, a wreath, leaves or whatever you want to paint and sell it again and again on multiple products.
You're not limited to a poster. You can create mugs, t-shirts, pillows and even bedding comforters and sheets if you want.
All of that from 1 painting that takes less than 20 minutes to create.
1. Create products using a print-on-demand service that you can add to your Etsy shop, website, or other ecommerce platform
2. Create a business around your art that sells based on research on the in-demand watercolor products
3. Develop your watercolor and artistic style and sell your digitized artwork as graphic packs
See how to easily create products from your watercolor paintings through digitizing them in a step-by-step process.
In this over-the-shoulder video course, I will walk you through the steps to digitize your watercolor paintings and create products to sell.
It's very simple and easy to do. Even if you're only paintings leaves and flowers, you can digitize them and use them in your products again and again.
Inside, you'll build off of the 7-day Watercolor Challenge video course and the paintings you made in it to digitize them. You'll then have products you can create and sell.
I show you print-on-demand sites you can use that are high quality and low cost so that you can add your products to your shop and still be competitive in your pricing.
I want you to have every possible advantage to succeed with your digitized watercolor products. For that reason, I'm including ways to profit from your watercolor paintings and I reveal exactly what to make that is in demand and how to profit.
Are My Watercolors Good Enough?

Yes! No matter whether you're brushing paint strokes across the page, creating circles or painting flowers, you can sell what you create.
In the course, I show you a few examples of products created with watercolors that are selling in high demand. You can easily create these with very simple paint strokes.
Even if you feel that you mess up your watercolor pieces, I show you how to fix it in the course with smoothing out lines, changing colors, and more.
Here's Exactly What We Will Work On Together In The Class

BONUS
In addition to having over-the-shoulder videos for you to watch, I'm also including bonuses that will help you succeed in digitizing your watercolors into products
I've also created a cheat sheet so that, once you learn how to go through each of the steps, you can refer to it as a checklist to remember all of the steps as you go
Facebook community to ask questions or availability through email and encourage you to ask questions along the way
Ready to get started with watercolors?
Create your own product line with me.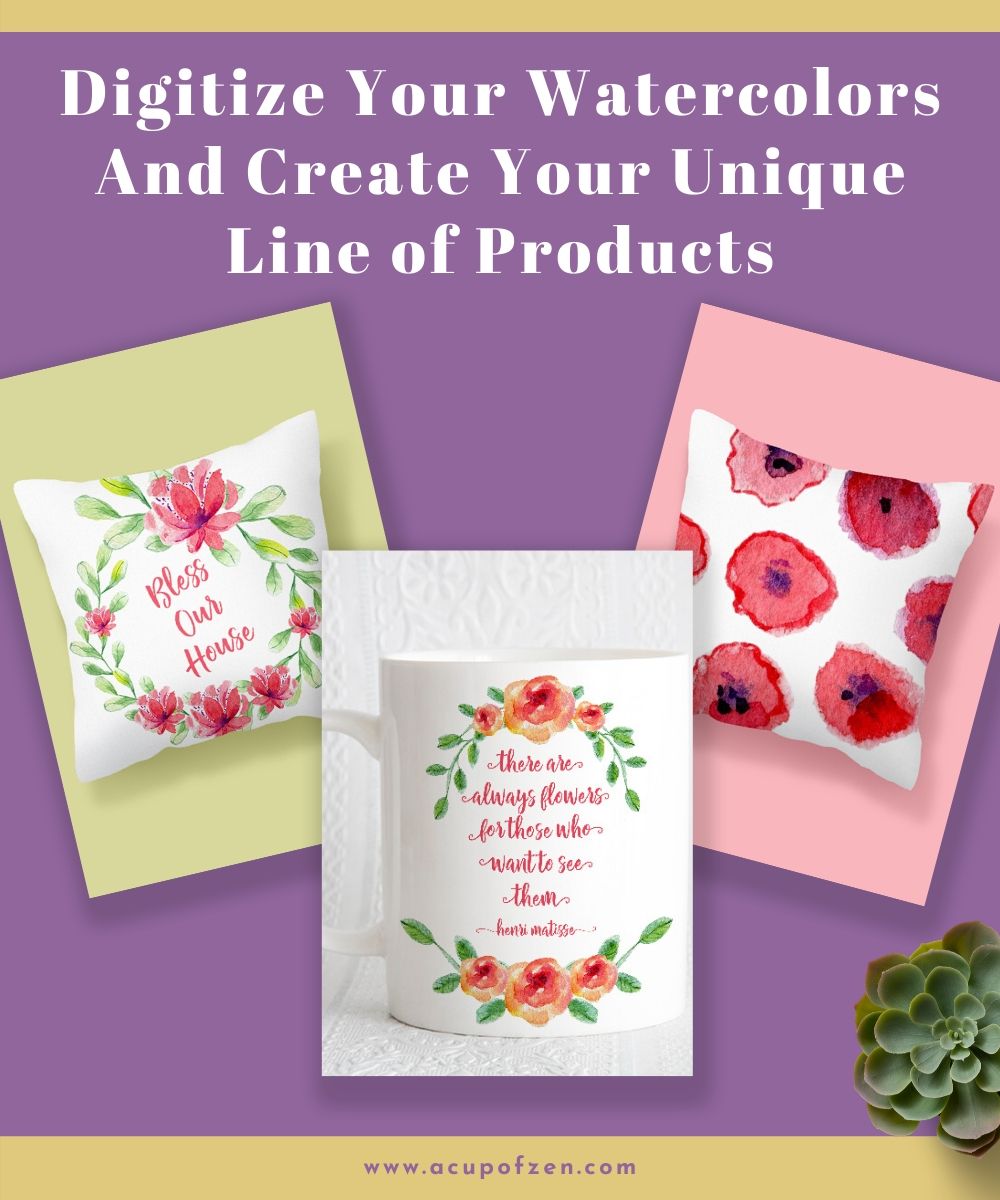 Join me in the Digitize Your Watercolors class as your next step.
If you've ever wanted to produce your own watercolor products, just do it now.
Your dream is within reach through this class as this can be easy for you to do. Best of all, you can get started within just a few minutes!
Total Value = $197
Only $27
Use coupon code to save $10: digitize