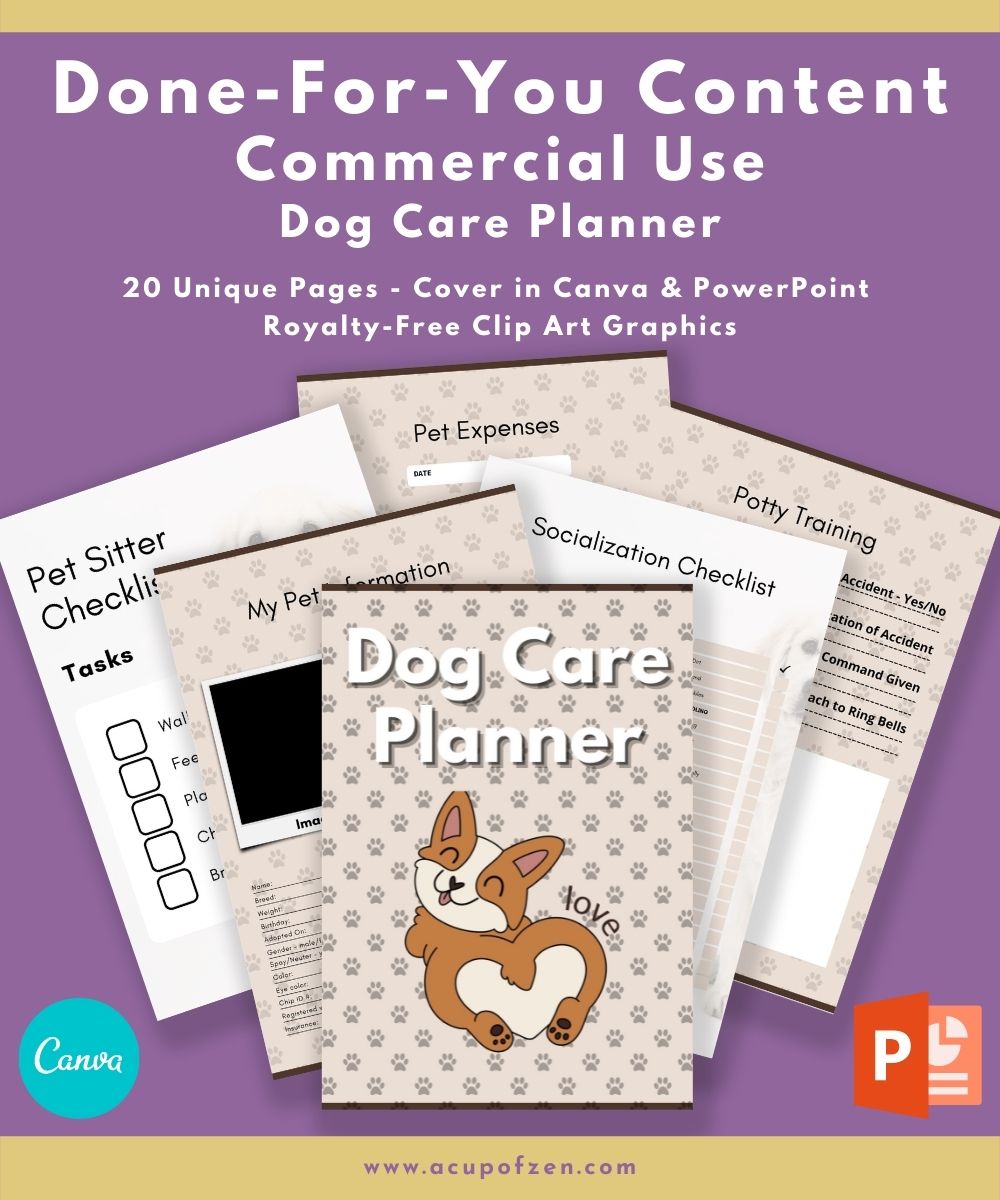 A Cup of Zen takes the hard work out of creating your planner printable or digital product. Use our planner to sell to your customers. Inside of the planner is 20 unique pages for your customers to keep track of everything they need to do with their dog. This makes remembering to walk Fido much easier.
A Cup of Zen's Dog Care Planner will help your customers plan everything they need to do with their best friend. This lovely, high-quality journal is full of 20 unique pages to get your customers started. It's a perfect gift for anyone who has a dog in their life, or a dog lover who needs a place to write down all the joys that come from sharing your life with a furry companion.
Sell this planner in your shop to give your customers easy ways to plan. You can add to it or use some of the pages to create unique planners for your customers.
This Done-For-You Package Includes:
Dog Care Planner with 20 unique interior pages
1 Cover Design in Canva, PowerPoint (PPTX) – Sizes include 8.5×11, 8×10, 6×9, A4 in color and grayscale (PPTX only)
Planner Page Templates (20 interior pages) in Canva and PowerPoint
1 Paw Print PNG Background
10 Hand-crafted Clip Art Graphics in PNG in 300 DPI
PLR / Commercial Use Rights
Total Value = $250


Only $27

What You Get In The Dog Care Planner
Features 20 unique template pages for planning time with your dog, allowing your customers to easily and enjoyably document keeping up with their best friend. Whether they're a new pet parent or a seasoned owner, this planner is a must-have addition to your collection to sell to your customers.
Training Commands Checklist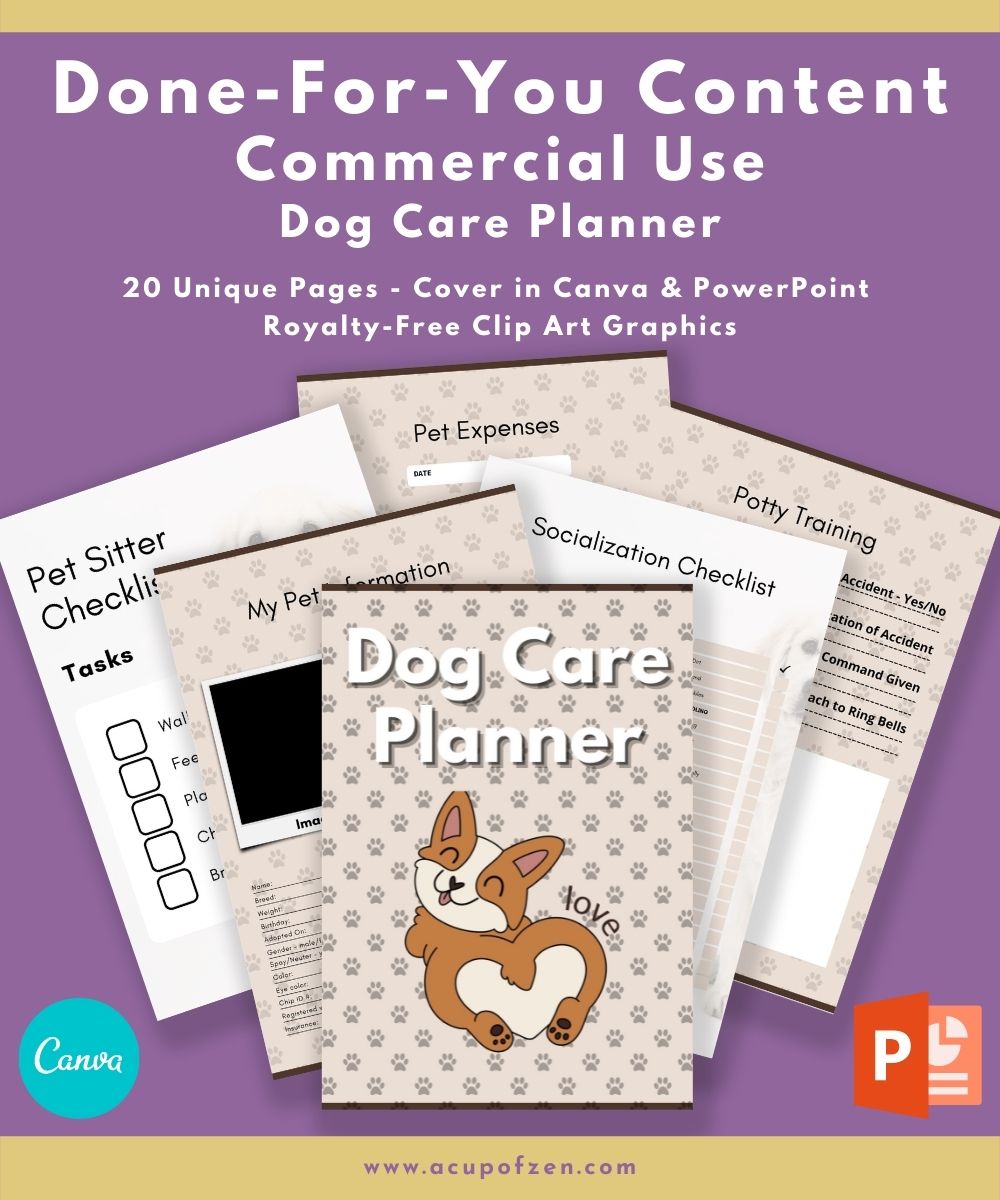 Planner Page Templates – Make Money or Give it Away!
Help your customers keep track of their dog's vet information, and have checklists for training commands and the pet sitter on the ready. Keep track of vaccinations and when to walk Fido.
That's why we created these templates to help you create beautiful products and make money, or give them away for free! The planner has 1 cover and 20 pages of planner templates. It's easy to edit with Canva and PowerPoint (PPTX) templates in 8.5×11, 8×10, 6×9, and A4 size in color and grayscale (PPTX Only).
Get Templates On All of the Following:
20 Unique Planner Template Pages
Backgrounds for Pages
10 Color Dog Clipart PNG Files
Dog Care Planner Template Pages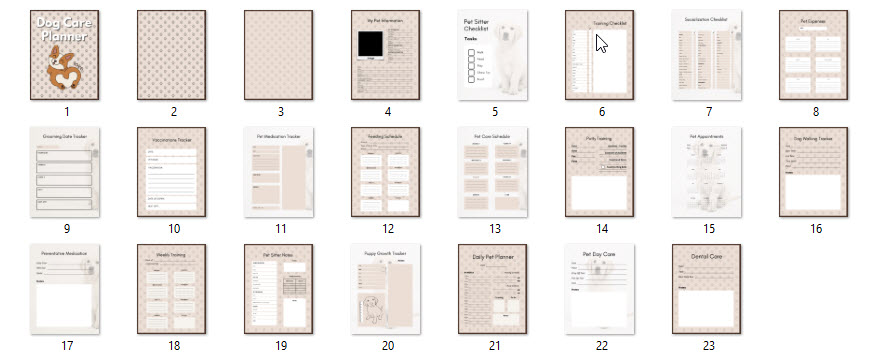 Easy to Edit Cover and Interior Page Templates in Canva and PowerPoint (PPTX)
20 Interior Page Layouts Done for You
Sizes Included: 8.5x11, 8x10, 6x9, A4
Comes in Color and Grayscale (PPTX Only in Grayscale)
Use the graphics to create projects like planners, journals, and stickers to sell..
Unique and Created By A Cup of Zen
Commercial Use License Included
Total Value = $250


Only $27

Stop Doing All the Things in Your Business
Instead of spending hours creating content, let us take care of it for you. Get high quality, detailed spiritual and self-help content to use as blog posts, for ebooks, in email autoresponders, courses, and more so you can focus on growing your business and making money.
Affordable Quality, Detailed Spiritual and Self Help Content
Be An Expert - Written By Helping Professionals for Helping Professionals
Get Content Your Readers Will Love
Make Money While Focusing on What You Do Best
Can Be Used As Your Branding (Not Exclusive Rights)
Can Be Used In Commercial Projects
Can Edit/Change the Files in Any Way You Want
Yes, You Can Create Stickers, Print-on-Demand Products, Planners, Journals, Coloring Books, Use in Membership Sites, and Create Any Other Type of Product for Commercial Use in an End Product (You Can Create a PDF File, a T-Shirt, Ebook, Blog Post, Planner, Journal, Etc)
Use the graphics (s) to create an end product (any product you wish to create that requires some skill or effort) in one of these ways:
A customized product using the item (social media posts, print-on-demand product)
Any end product that uses the item along with other items in a larger body of work (planner, journal, stickers)
Here's What You Cannot Do
Cannot Resell Any of These Items As Individual Files on Marketplaces (Please No Listing the Source Files or Graphics on Creative Market or Etsy). No reselling PLR rights
Cannot Pass On, Sell or Give Away These with PLR Rights, Commercial Use, or Master Resell Rights
Total Value = $250


Only $27