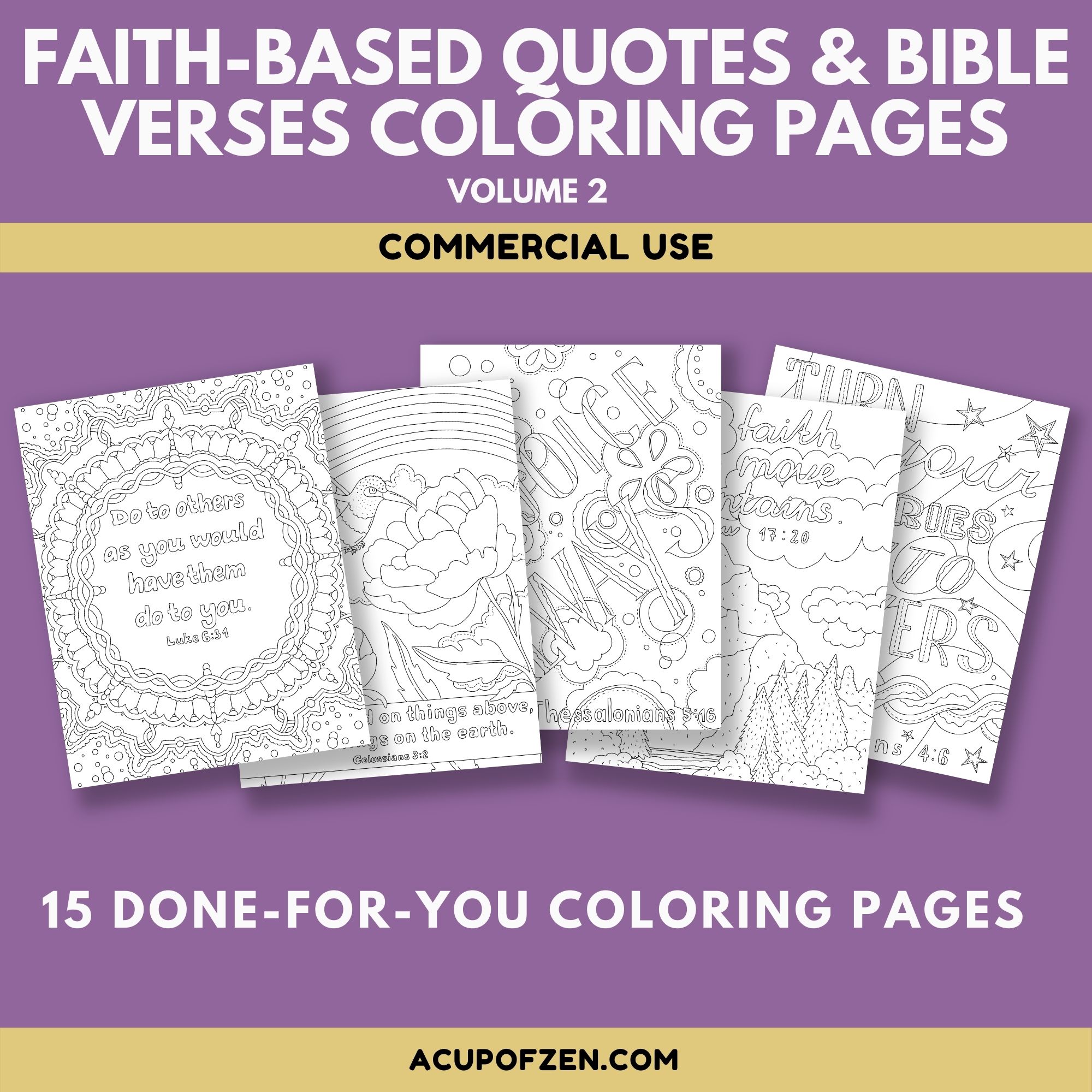 A lot of people are turning to digital coloring pages as a way to relax and de-stress. Christian websites have turned them into a fan favorite activity for adult coloring books.
The Bible is filled with inspiring passages that can be used as a guide on a person's journey. Whether it's the Gospel of John or one of the stories in the Old Testament, there is always something meaningful to be found in scripture.
Coloring pages have been praised for their ability to provide an escape from daily life and help children calm down when distressed, so they are perfect for adults who want some time away from their busy schedules too.
Use the coloring pages in products like planners and journals or sell on their own. These coloring pages also help you make money. With this pack, you get PLR rights which is perfect to sell these to your customers. Give your customers comfort with faith-based sayings and Bible verses that can be life changing. Provide them with these coloring pages as they need to remember they are loved and relax during challenging times.
This Done-For-You Package Includes:
15 Coloring Pages
PNG & PDF Format, 300 DPI
8.5″ x 11″ size
PLR / Commercial Use Rights
Bonus – Set of Printable Word Art in 4 Different Fonts (PPTX Templates)
Total Value = $250
Only $27

Let's Color Faith Based Sayings & Bible Quotes with Coloring Pages and Quotes
The Coloring Pages can Help You Share the Love and Comfort of God and Faith
What You Get In The 15 Faith-Based Sayings and Bible Verses Coloring Pages Pack
15 Coloring Pages to Help Your Customers with Faith and Comfort
When your customers are struggling, it is important to provide support. Coloring pages can be a great tool for helping someone find comfort and peace when they most need it.
Coloring pages can take the burden off of the person who is struggling by releasing their feelings, while also providing them with an outlet for their creativity. They are often used as a springboard to explore different religious beliefs and philosophies, as well as a way to express personal thoughts and feelings in a therapeutic way.
Coloring pages help people explore what is going on in their life, whether it be difficult emotions or something they're trying to learn about and understand better.
Give your customers the power of faith with these potentially life-changing sayings and Bible verses. Provide them with these coloring pages as they need to remember the love and comfort God provides.
Word Sayings & Quotes Include:
The Lord will fight for you. All you have to do is keep still. - Exodus 14:14
Let all that you do be done in love. - 1 Corinthians 16:14
We first love because He first loved us. - 1 John 4:19
Then you will know the truth and the truth will set you free. - John 8:52
Most of all let love guide your life. - Colossians 3:14
Coloring pages for relaxation and mindfulness
Coloring has been proven to be a great solution for stress and anxiety relief. Studies have shown that coloring elevates mood, reduces feelings of pain, and increases attention span.
For children, coloring is a fun activity that builds their imagination while adults can use it in their personal or professional lives. It's a quick way to relieve stress and work on mindfulness when you're feeling overwhelmed.
This coloring book features Christian inspirational sayings and Bible verses with an easy to print design.
These coloring pages give your customers the love and comfort of God, which they can use to create change in their lives. Each pack includes 15 coloring pages with quotes, so you will easily sell them in your shop, on a membership platform or as an opt-in.
These Pages Come In:
PNG & PDF Format
300 DPI
8.5″x11″ size
15 Faith-Based Sayings & Bible Quotes Coloring Pages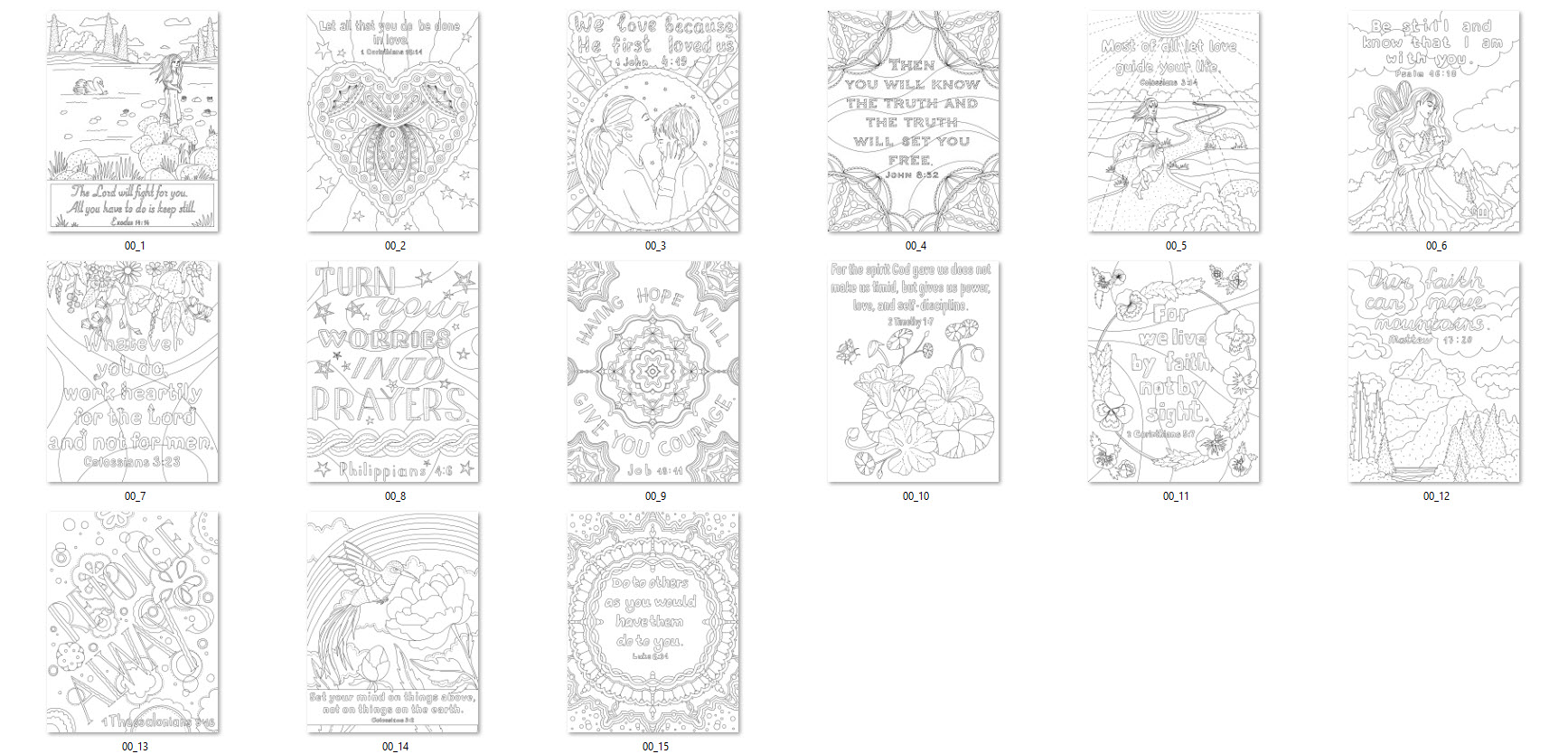 Sell Coloring Pages with Quotes

When you give people coloring pages with Faith-Based Sayings and Bible Verses, they will remember and integrate the wisdom into their lives to change their life. The coloring pages will remind them of God's wisdom. These coloring pages are a pack with PLR rights which is perfect to sell to your customers.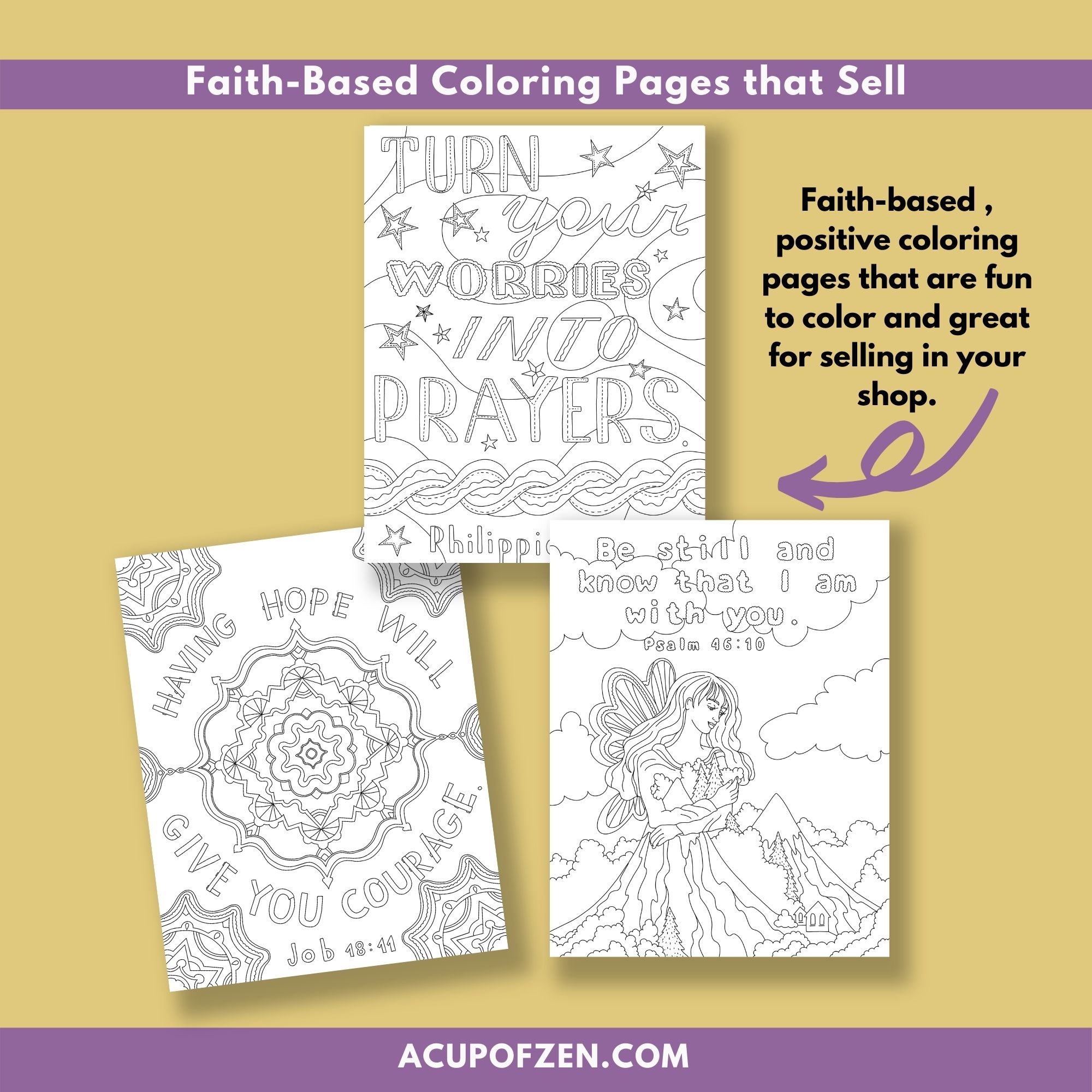 Bonus – Set of Printable Word Art
Your customers will love printable word art using the Faith-Based Sayings and Bible Verses from the pack. This set of 15 printable word art can be printed and used as wall art and more. You receive 4 sets using the 15 sayings and Bible verses in PowerPoint (PPTX) files and a link to download the free, commercial use fonts.
These Pages Come In:
You Get:
4 sets of printable word art pages (x15 pages)
Links to download the 4 fonts that are also commercial use
How Can You Use the Faith-Based Sayings and Bible Verses Coloring Pages Pack?
Done-for-You Content & Coloring Pages Can Help You
Get more traffic with opt-ins
Attract your ideal clients looking to fix their mindset
Sell your own products (Coloring Pages, Journal, Planner)
Help clients with this topic in coaching sessions
Give Coloring Pages to Your Clients Who Are Changing Their Mindset
Create your products faster
Total Value = $250
Only $27

Stop Doing All the Things in Your Business
Instead of spending hours creating content, let us take care of it for you. Get high quality, detailed spiritual and self-help content to use as blog posts, for ebooks, in email autoresponders, courses, and more so you can focus on growing your business and making money.
Affordable Quality, Detailed Spiritual and Self Help Content
Be An Expert - Written By Helping Professionals for Helping Professionals
Get Content Your Readers Will Love
Make Money While Focusing on What You Do Best
Can Be Used In Commercial Projects
Sell pages individually, in a coloring book, in a planner, journal, or any other end product you want to list for sale
Sell pages individually, as part of a pack, in a commercial product, in a membership program, or add as an opt-in
Here's What You Cannot Do
Cannot Pass On, Sell or Give Away These with PLR Rights, Commercial Use, or Master Resell Rights
Total Value = $250
Only $27