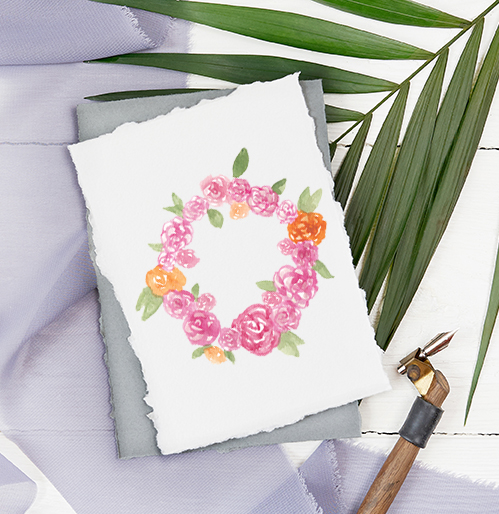 SIGN UP FOR THE FREE 7-DAY VIDEO COURSE
In the Get Started With Watercolors Made Easy, I walk you through the tools and step-by-step brush strokes to create flowers, leaves, and wreaths you can use for greeting cards, social posts, products and any holiday or other occasions. It's really as easy as writing a "c"!
This Done-For-You Package Includes:
Step-by-step how-to paint leaves and flowers with watercolors and build these into wreaths
The easiest way to create a wreath with leaves and flowers!
Look over my shoulder. I'm Gabby Conde, your guide, to getting started with your watercolor practice
This training is Personal Use Only
Total Value = $97
Yours FREE
PROJECTS WE'LL BE WORKING ON TOGETHER
What's the fun of learning to paint with watercolors if you aren't creating something you'll love? During this 7-day FREE video course, I'll walk you through these fun projects:
Flowers – Roses and Filler Flowers
Petals & Pistils – Discover a Variety of Petals and 3 Centers of a Flower to Paint
Leaves – Different Shapes And Sizes
Wreaths – Leaf Wreath, Roses & Flowers, Roses with Leaves
WE'LL WORK STEP-BY-STEP TOGETHER
One of the most frustrating things on my journey to picking up watercolors is that teachers skip steps that are important for beginners. In this 7-day video course, I talk you through what I'm doing while you look over my shoulder!
Watch over my shoulder on video how I'm doing everything step-by-step with you
I talk you through what I'm doing every step of the way
Leaves – Different Shapes And Sizes
I'm available for your questions in a Facebook group or through email