Done-For-You Planner Templates Pages & Graphics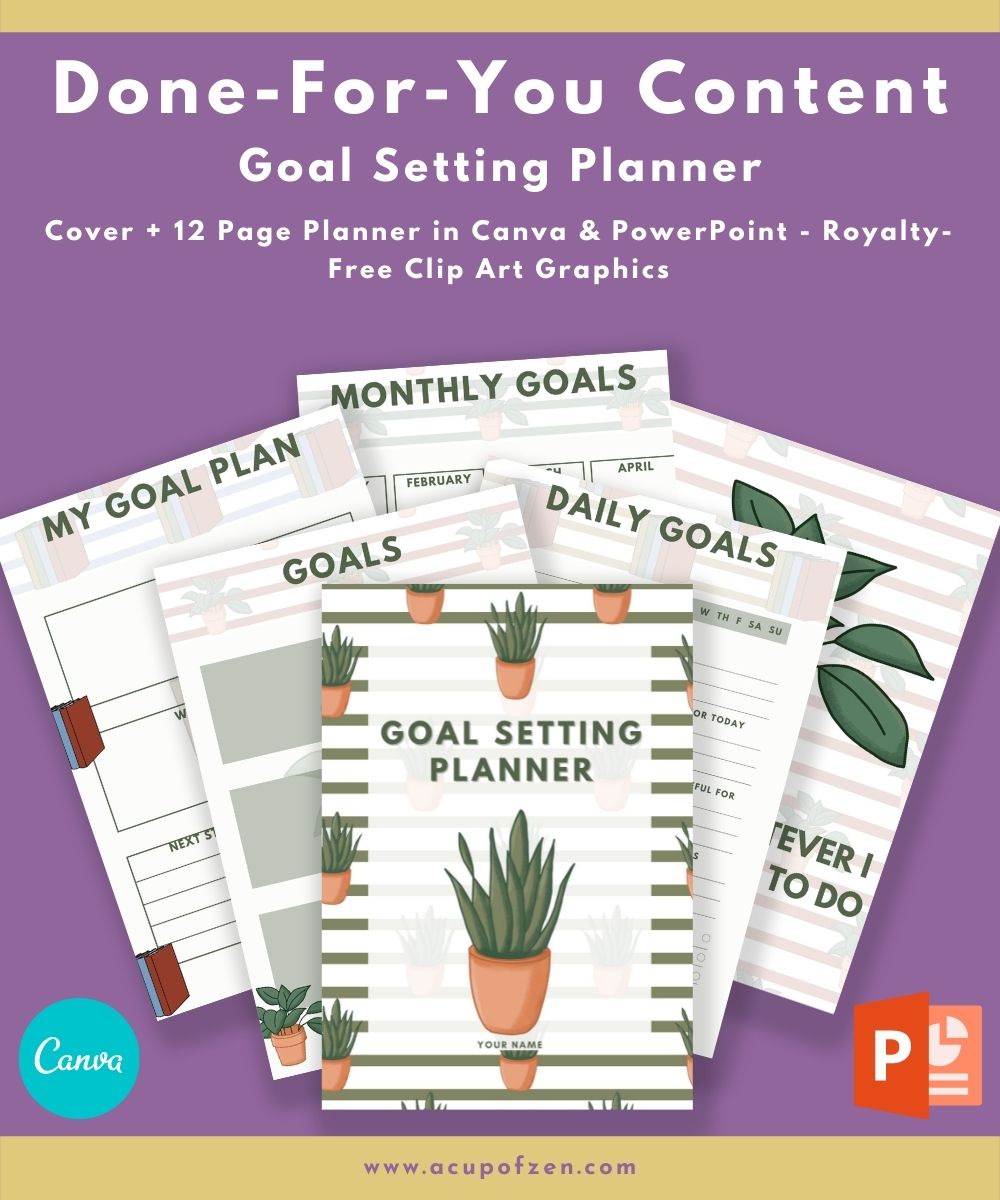 Goal setting planners are essential tools for achieving work-life balance. They help you identify your strengths, weaknesses, and motivators.
The main benefit of using these goal planning tools is that it can help both short-term and long-term success by identifying the steps needed to achieve your goals.
Some of the benefits of using a goal setting planner are:
They help you focus on what you want to achieve and make it easier to attain your goals.
This planner also comes with a journal, which allows you to record your progress and see how far you have come in achieving your goals.
You get to get a tangible reminder of what is important to you and stay focused on things that can help you achieve them daily, weekly, or monthly
Sell this journal in your shop to give your customers ways to set their goals.
This Done-For-You Package Includes:
Goal Setting Planner Templates in Canva and PowerPoint (PPTX)
1 Cover Design and 12 Inner Pages in Canva, PowerPoint (PPTX) – Sizes include 8.5×11, 8×10, 6×9, A4 in color
Hand-crafted Clip Art Graphics in PNG in 300 DPI and Vector (SVG), 7 Backgrounds in JPG and PNG
PLR / Commercial Use Rights
What You Get In The Goal Setting Planner
A goal setting planner is also helpful because it helps organize your life. It can help you set time limits for your goals, target your efforts, and track progress towards achieving them.
That's why we created these templates to help you create beautiful products and make money, or give them away for free! The planner has 1 cover and 12 pages of planner templates. It's easy to edit with Canva and PowerPoint (PPTX) templates in 8.5×11, 8×10, 6×9, and A4 size in color.
Get Templates On All of the Following:
Daily, Weekly, Monthly Goal Setting
Space to write
Monthly Calendar
Goal Setting Planner Template Pages
Easy to Edit Cover and Interior Page Templates in Canva and PowerPoint (PPTX)
12 Interior Pages Done for You
Sizes Included: 8.5x11, 8x10, 6x9, A4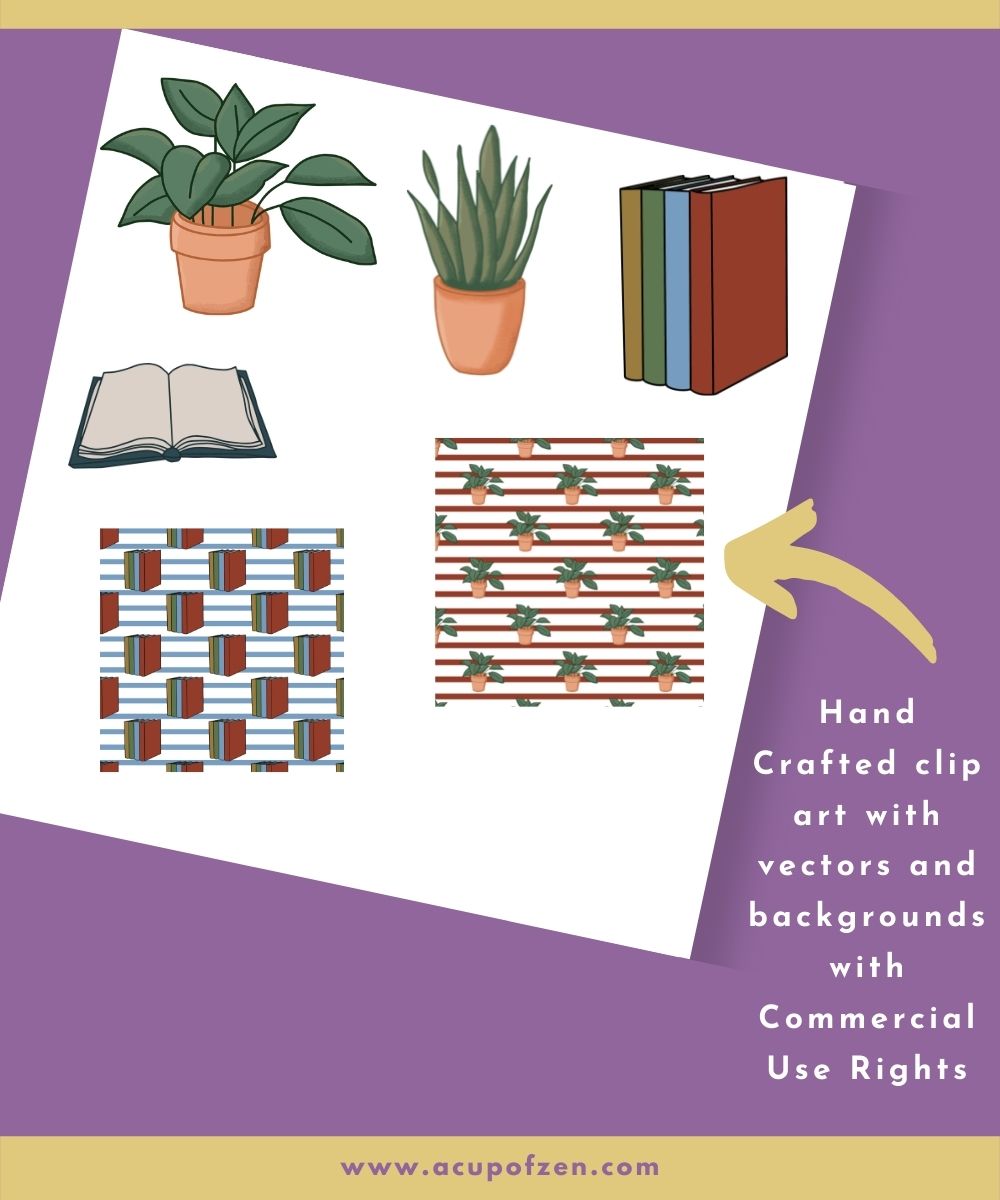 Use the graphics to create projects like planners, journals, and stickers to sell.
7 Backgrounds as 12"x12" JPG and PNG Overlays
Unique and Created By A Cup of Zen
Commercial Use License Included
Stop Doing All the Things in Your Business
Instead of spending hours creating content, let us take care of it for you. Get high quality, detailed spiritual and self-help content to use as blog posts, for ebooks, in email autoresponders, courses, and more so you can focus on growing your business and making money.
Affordable Quality, Detailed Spiritual and Self Help Content
Be An Expert - Written By Helping Professionals for Helping Professionals
Get Content Your Readers Will Love
Make Money While Focusing on What You Do Best
100% Money Back Guarantee
I believe that you will be satisfied.
If for some reason you aren't, you will receive a 100% refund of your purchase. No questions asked.

Can Be Used As Your Branding (Not Exclusive Rights)
Can Be Used In Commercial Projects
Can Edit/Change the Files in Any Way You Want
Yes, You Can Create Stickers, Print-on-Demand Products, Planners, Journals, Coloring Books, Use in Membership Sites, and Create Any Other Type of Product for Commercial Use in an End Product (You Can Create a PDF File, a T-Shirt, Ebook, Blog Post, Planner, Journal, Etc)
Use the graphics (s) to create an end product (any product you wish to create that requires some skill or effort) in one of these ways:
A customized product using the item (social media posts, print-on-demand product)
Any end product that uses the item along with other items in a larger body of work (planner, journal, stickers)
Here's What You Cannot Do
Cannot Resell Any of These Items As Individual Files on Marketplaces (Please No Listing the Source Files or Graphics on Creative Market or Etsy). No reselling PLR or Commercial Use rights
Cannot Pass On, Sell or Give Away These with PLR Rights, Commercial Use, or Master Resell Rights