Done-For-You Journal Art Journal Templates Pages & Backgrounds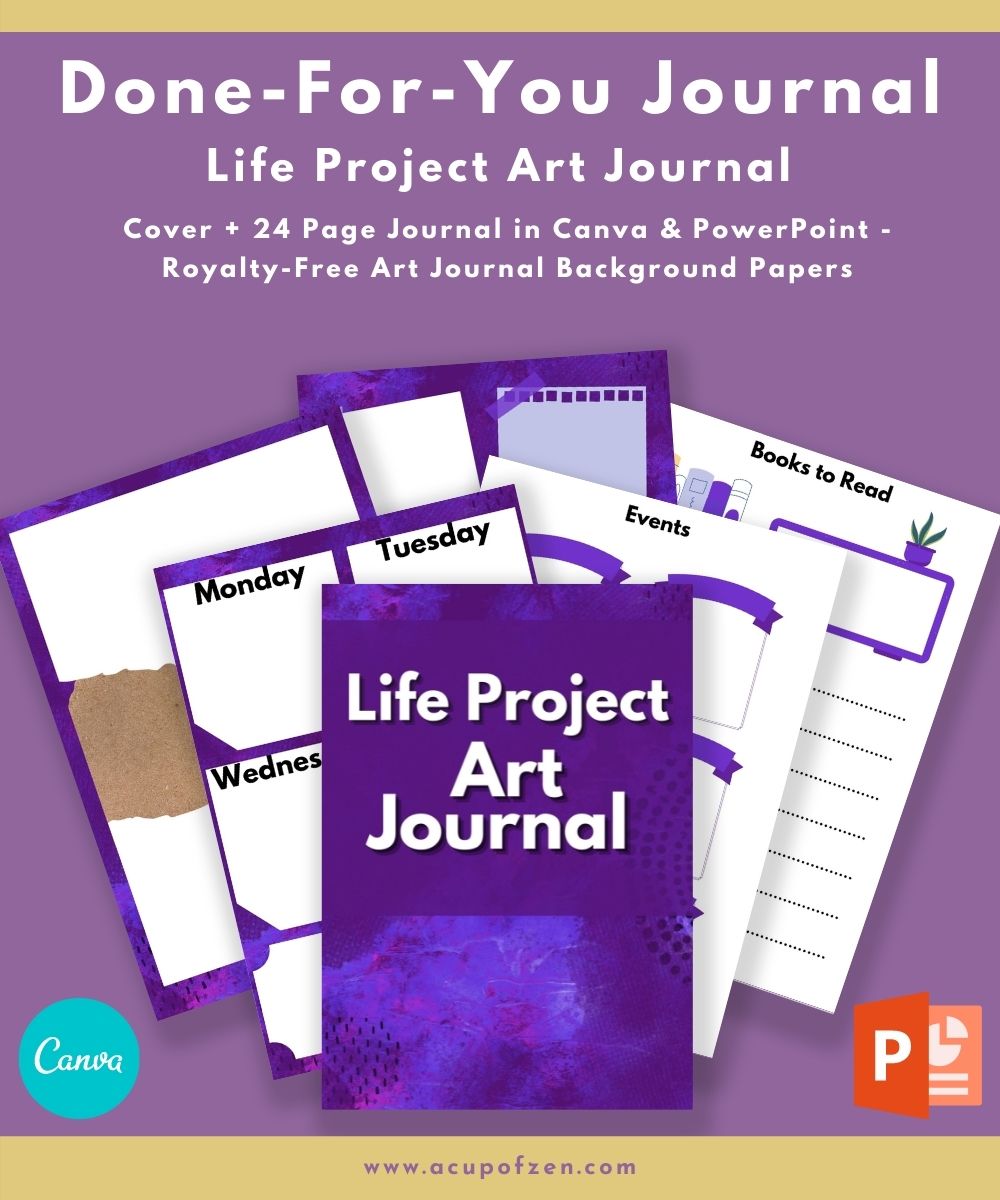 Journaling can be a form of self-care. A life project art journal is a way to improve your mental health and explore your creativity.
Self-care is important for everyone, but if you have mental illness it is essential that you take care of yourself in order to live a healthy and balanced life. Journaling can be a form of self-care because it provides an outlet for your thoughts, emotions, and experiences. It is also helpful because it can help with self-reflection and exploring yourself on an emotional level.
Life project art journals are also a great way to explore your creativity in different ways through collecting materials, doodling, drawing, painting, collaging or whatever else you might want to do with them.
Sell this art journal in your shop to give your customers fun pages to use in their art journal process. You can add to it or use some of the pages to create unique art journals for your customers.
This Done-For-You Package Includes:
Life Project Art Journal
1 Cover Design in Canva, PowerPoint (PPTX) – Sizes include 8.5×11, 8×10, 6×9, A4 in color and grayscale (PPTX only)
Journal Templates (24 interior pages) in Canva and PowerPoint
Hand-crafted Art Journal Backgrounds in JPG in 300 DPI
PLR / Commercial Use Rights
Total Value = $250


Only $27

Give your customers more pages or a completely new art journal to document their life
What You Get In The Life Project Art Journal
One way to track a project is to include it in your life project art journal. A life-project art journal is a creative way to keep track of your progress and create a space that will inspire you. It's also an opportunity for you to get creative with colors, shapes, and textures
Daily, Weekly, Monthly Page Templates
A List of Favorite Things & Things to Do
Events, Places to Go, Habit & Mood Tracker
Journal prompts delivered via Word document and text file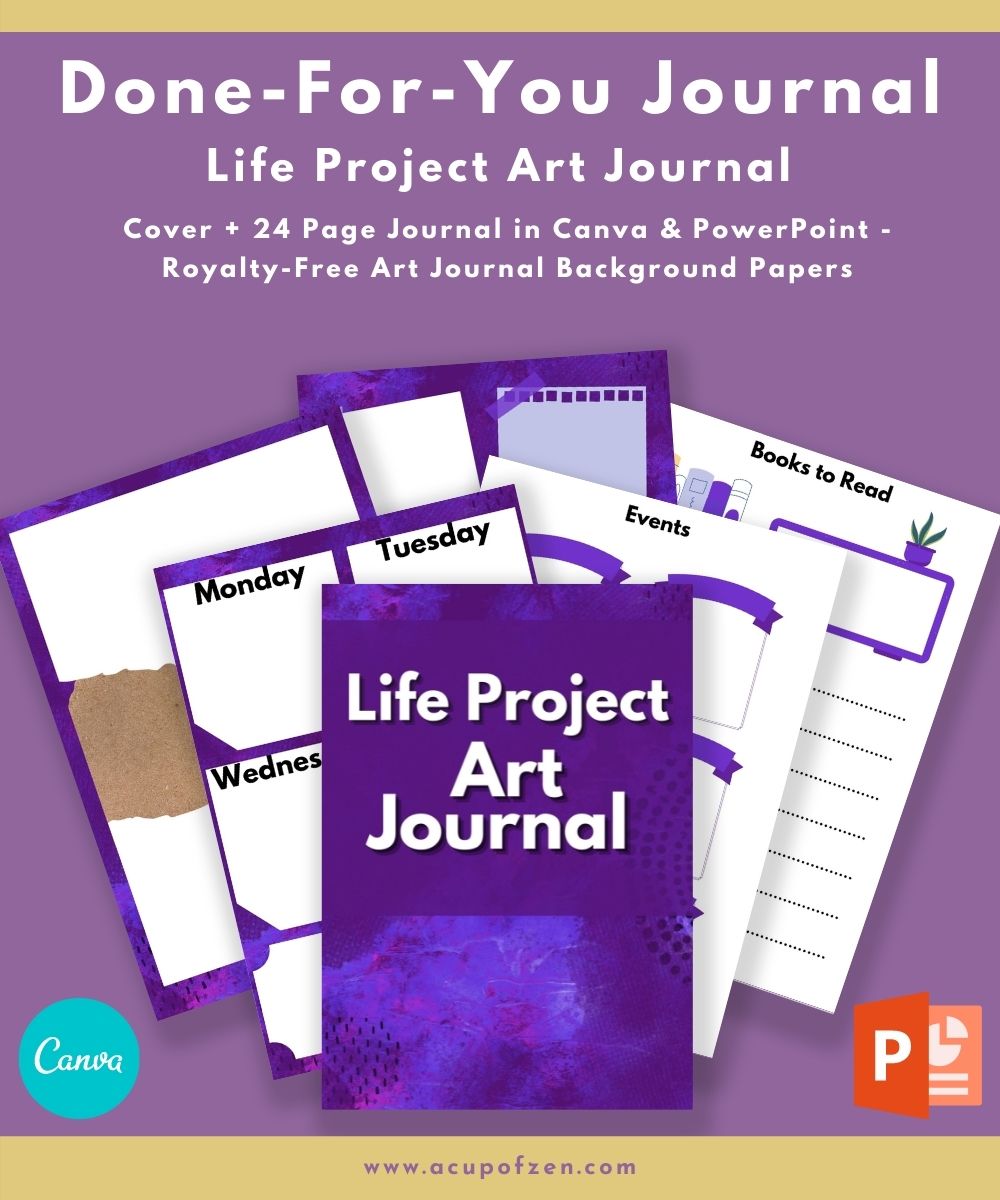 Journal Templates – Make Money or Give it Away!
This is a great starter life project art journal to help your customers keep track of what's going on in their daily lives and things they want to do. That's why we created these templates to help you create beautiful products and make money, or give them away for free! The journal has 1 cover and 24 pages of journal templates. It's easy to edit with Canva and PowerPoint (PPTX) templates in 8.5×11, 8×10, 6×9, and A4 size in color and grayscale (PPTX Only).
Get Templates On All of the Following:
Daily, Weekly, Monthly Template Pages
Torn paper pages (fun for doodling)
My Favorite Things Pages
List Pages
Note Pages
Cover
Life Project Art Journal Template Pages
Easy to Edit Cover and Interior Page Templates in Canva and PowerPoint (PPTX)
24 Interior Page Layouts Done for You
Sizes Included: 8.5x11, 8x10, 6x9, A4
Comes in Color and Grayscale (PPTX Only in Grayscale)
Use the graphics to create projects like planners, journals, and stickers to sell..
6 Sets of Artsy Designed Backgrounds 12" x 12"
Unique and Created By A Cup of Zen
Commercial Use License Included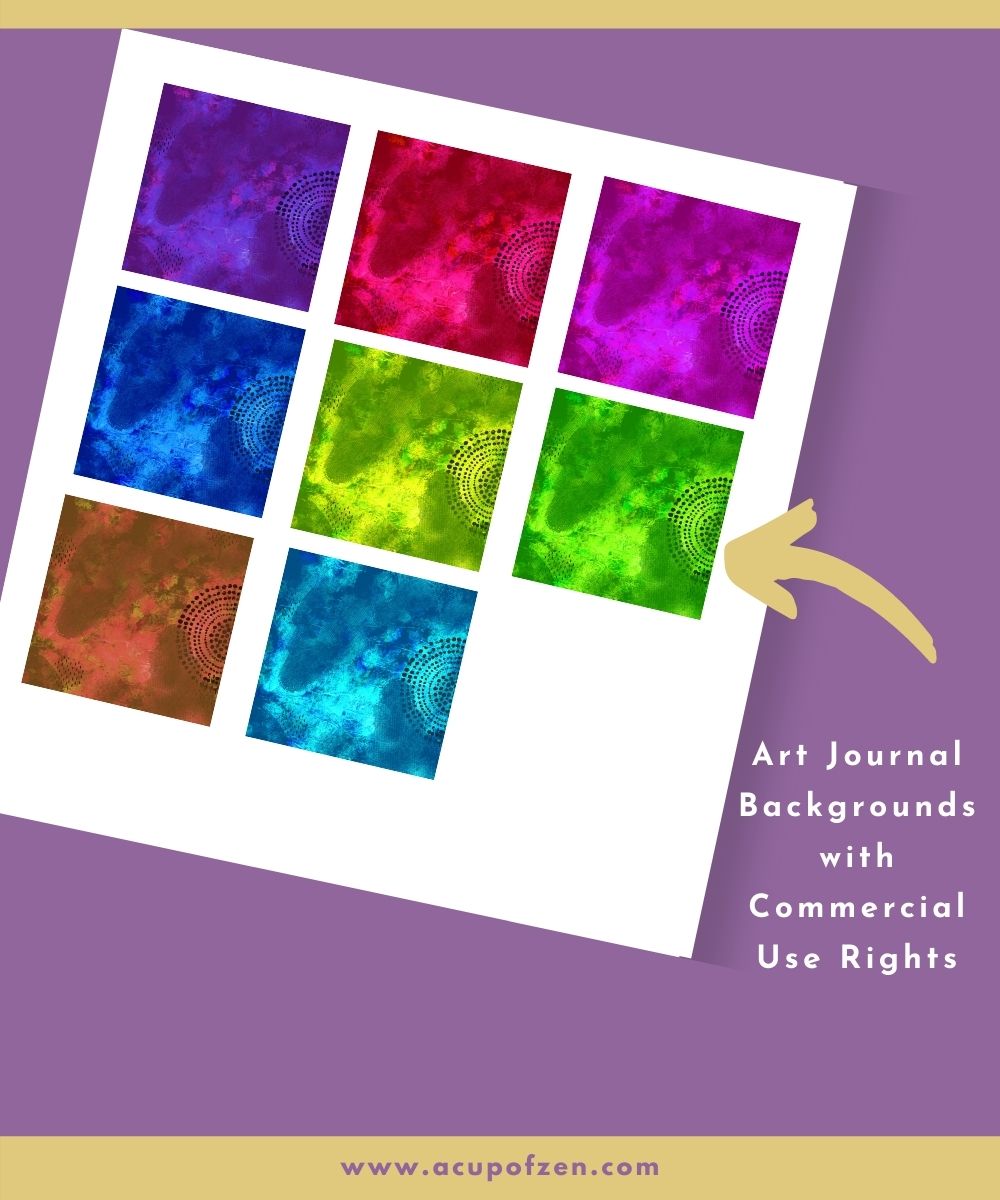 Life Project Art Journal Template Pages
How Can You Use the Life Project Art Journal?
Done-for-You Content Can Help You
Attract your ideal clients
Sell your own products (Course, Challenge, Planner)
Help clients with this topic in coaching sessions
Be an expert in your industry
Total Value = $250


Only $27

Stop Doing All the Things in Your Business
Instead of spending hours creating content, let us take care of it for you. Get high quality, detailed spiritual and self-help content to use as blog posts, for ebooks, in email autoresponders, courses, and more so you can focus on growing your business and making money.
Affordable Quality, Detailed Spiritual and Self Help Content
Be An Expert - Written By Helping Professionals for Helping Professionals
Get Content Your Readers Will Love
Make Money While Focusing on What You Do Best
100% Money Back Guarantee
I believe that you will be satisfied.
If for some reason you aren't, you will receive a 100% refund of your purchase. No questions asked.

Can Be Used As Your Branding (Not Exclusive Rights)
Can Be Used In Commercial Projects
Can Edit/Change the Files in Any Way You Want
Yes, You Can Create Stickers, Print-on-Demand Products, Planners, Journals, Coloring Books, Use in Membership Sites, and Create Any Other Type of Product for Commercial Use in an End Product (You Can Create a PDF File, a T-Shirt, Ebook, Blog Post, Planner, Journal, Etc)
Use the graphics (s) to create an end product (any product you wish to create that requires some skill or effort) in one of these ways:
A customized product using the item (social media posts, print-on-demand product)
Any end product that uses the item along with other items in a larger body of work (planner, journal, stickers)
Here's What You Cannot Do
Cannot Resell Any of These Items As Individual Files on Marketplaces (Please No Listing the Source Files or Graphics on Creative Market or Etsy). No reselling PLR rights
Cannot Pass On, Sell or Give Away These with PLR Rights, Commercial Use, or Master Resell Rights
Total Value = $250


Only $27