Master Your Mindset Coloring Pages with Quotes
Done-For-You Coloring Pages
Create coloring books or use the pages in your journals and planners to help you get focused on mastering your mindset to reach your goals. Coloring helps your customers with meditation, mindfulness, and stress reduction.  Help them focus and meditate on mastering their mindset. Coloring helps rejuvenate your mind, body, and soul as a mini-break from the stress of the day.
This Done-For-You Package Includes:
15 Coloring Pages
PNG & PDF Format, 300 DPI
8.5″ x 11″ size
PLR / Commercial Use Rights
Total Value = $250
Only $27

Add the Master Your Mindset Coloring Pages to Your Shop
Do your customers need to shift their mindset? Help them get started with these coloring pages.
What You Get In The 15 Master Your Mindset Coloring Page Pack
15 Coloring Pages to Help Your Customers Set Their Mindset with Positive Quotes

Master Your Mindset Coloring Pages have been created to help your customers be more productive, and help them change their mindset to master their goals in life. With these coloring pages, your customers can also color and focus on their goals with positive quotes. Give your customers a way to relax and rejuvenate their mind, body, and soul.
Word Sayings & Quotes Include:
Your Attitude is What Determines Your Day
Make Today Ridiculously Amazing
Nothing is impossible. The word itself says "I'm possible." - Audrey Hepburn
It it doesn't challenge you, it doesn't change you
Color to Manifest Your Goals
Coloring is a proven way to help you relax and give your brain a break from everyday stress. Use these coloring pages to help your customers manifest their goals, while also helping them relax and rejuvenate their mind, body, and soul.
These Pages Come In:
PNG & PDF Format
300 DPI
8.5″x11″ size
Create a coloring book or add to your journal or a planner focused on mastering your mindset.
15 Master Your Mindset Coloring Pages
Mindful Coloring Pages that Sell
One way to help your customers relax, regain focus, and achieve their goals is by creating a mindfulness coloring page. Send this out to your customers, or sell it as a digital download in your shop.
Use the power of coloring to spread positivity and calmness to your customers. Use it as a meditation coloring book for your customers – give them something they will enjoy to help them focus on changing their mindset.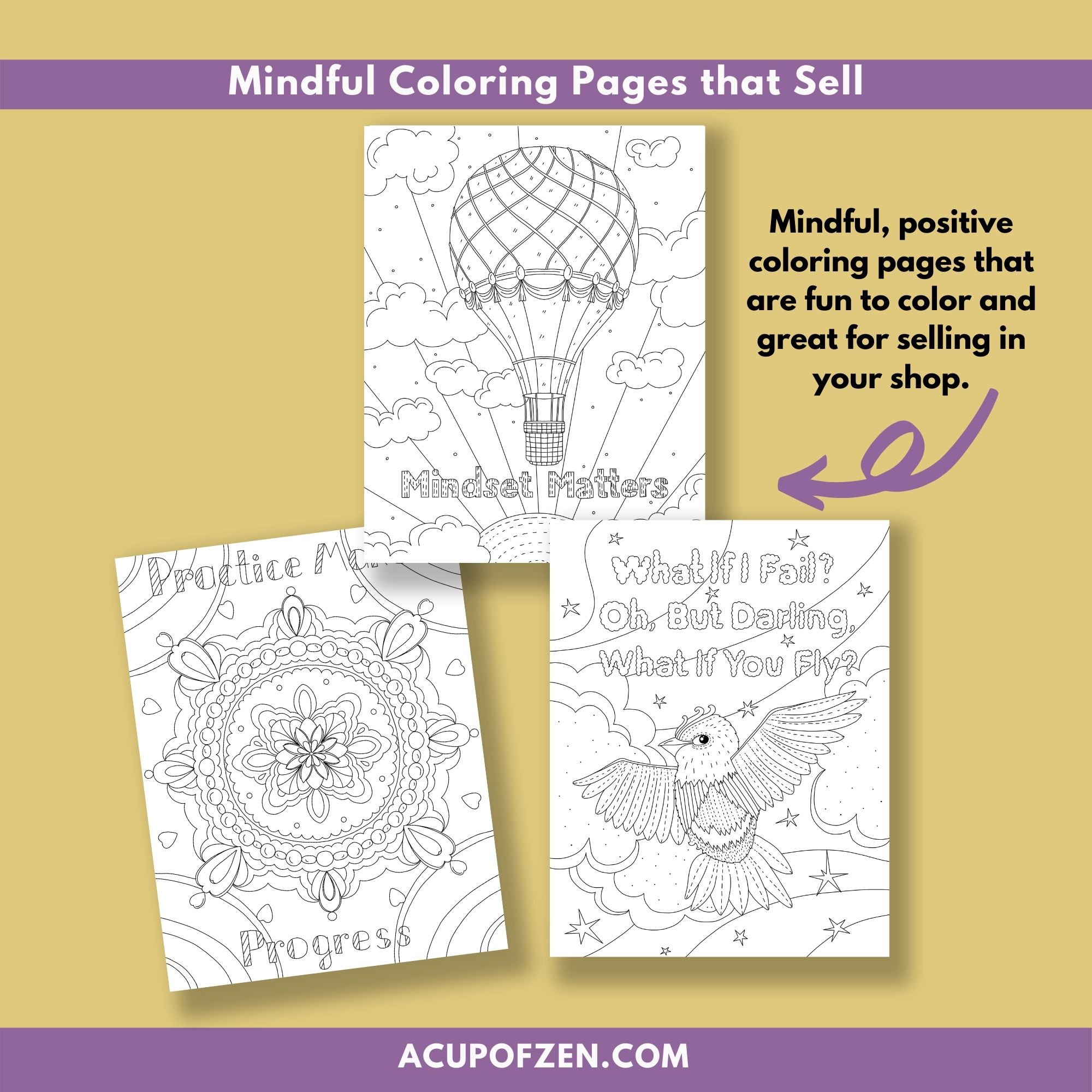 How Can You Use the Master Your Mindset Coloring Page Pack?
Done-for-You Content & Coloring Pages Can Help You
Get more traffic with opt-ins
Attract your ideal clients looking to fix their mindset
Sell your own products (Coloring Pages, Journal, Planner)
Help clients with this topic in coaching sessions
Give Coloring Pages to Your Clients Who Are Changing Their Mindset
Create your products faster
Total Value = $250
Only $27

Stop Doing All the Things in Your Business
Instead of spending hours creating content, let us take care of it for you. Get high quality, detailed spiritual and self-help content to use as blog posts, for ebooks, in email autoresponders, courses, and more so you can focus on growing your business and making money.
Affordable Quality, Detailed Spiritual and Self Help Content
Be An Expert - Written By Helping Professionals for Helping Professionals
Get Content Your Readers Will Love
Make Money While Focusing on What You Do Best
100% Money Back Guarantee
I believe that you will be satisfied.
If for some reason you aren't, you will receive a 100% refund of your purchase. No questions asked.

Can Be Used As Your Branding (Not Exclusive Rights)
Can Be Used In Commercial Projects
Can Edit/Change the Files in Any Way You Want
Yes, You Can Create Stickers, Print-on-Demand Products, Planners, Journals, Coloring Books, Use in Membership Sites, and Create Any Other Type of Product for Commercial Use in an End Product (You Can Create a PDF File, a T-Shirt, Ebook, Blog Post, Planner, Journal, Etc)
Use the graphics (s) to create an end product (any product you wish to create that requires some skill or effort) in one of these ways:
A customized product using the item (social media posts, print-on-demand product)
Any end product that uses the item along with other items in a larger body of work (planner, journal, stickers)
Here's What You Cannot Do
Cannot Resell Any of These Items As Individual Files on Marketplaces (Please No Listing the Source Files or Graphics on Creative Market or Etsy). No reselling PLR rights
Cannot Pass On, Sell or Give Away These with PLR Rights, Commercial Use, or Master Resell Rights
Total Value = $250
Only $27