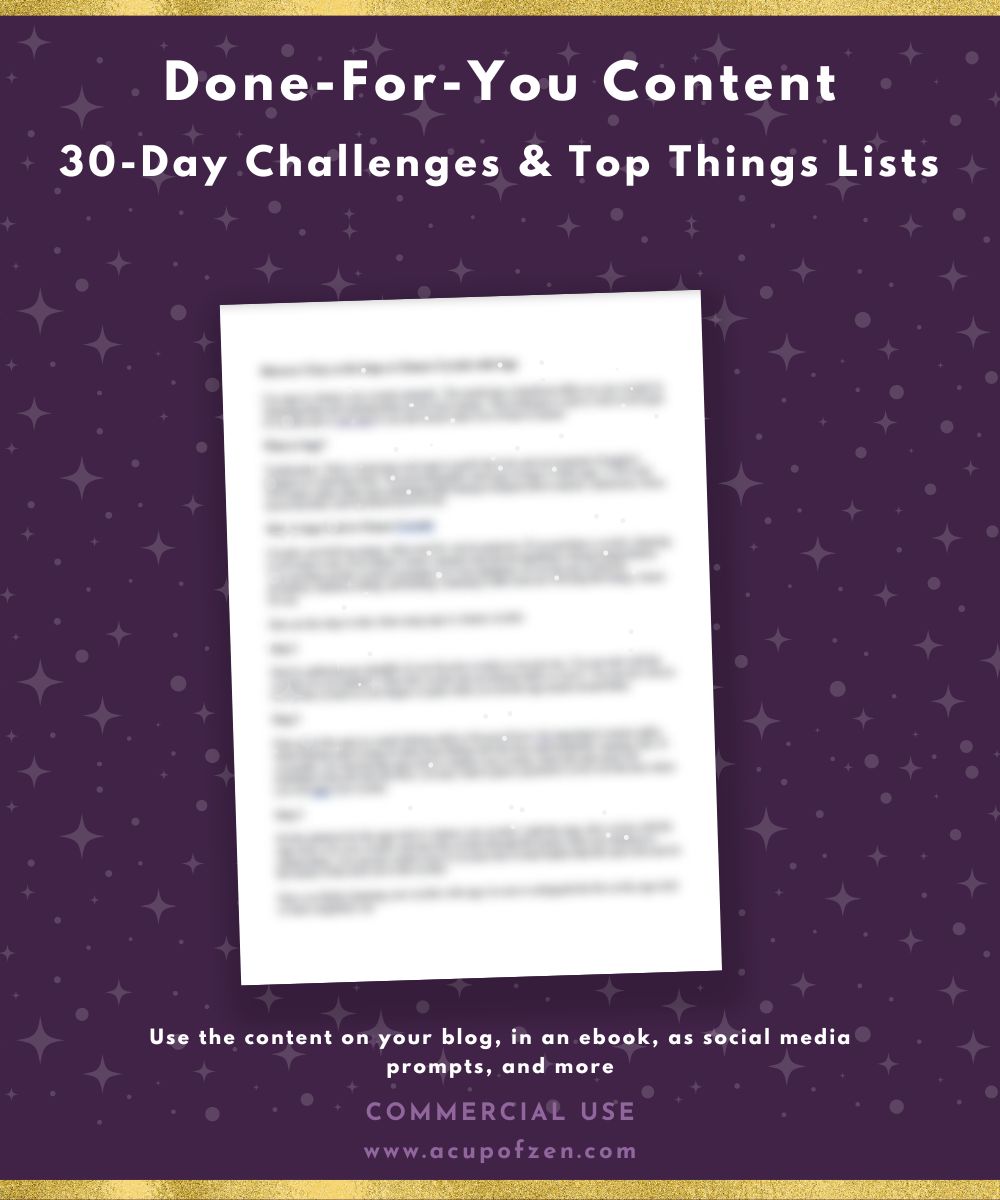 Done for you PLR Content
We're excited to release our 30-Day Challenges and Top Things for Entrepreneurs content lists. With these lists, you can use them in your business as your own content and help your clients achieve success.
Our PLR content lists are helpful for anyone who wants to create high-quality content without putting in a lot of time and effort, especially in thinking of the idea. We asked Chat GPT several questions and asked for it to list some 30 day challenges that would help us in our businesses. As a result, we received a LOT of content lists for YOU to use. We've spent time checking over the answers and re-phrasing things or re-writing where needed to ensure the answers match the best solutions.
With our years of experience in online marketing and self-development, you can rely on our expertise in crafting the content to match what clients need.
Our PLR content lists include 30-day challenges that help in topics from healthy meal planning for 30 days, productivity, and personal growth. The 30-day challenges also include content plans and topic ideas for bloggers. We even have a list of the top 10 plants for busy entrepreneurs. Fun, fun!
In addition, we've created quite a number of topics on the "Top Things for Entrepreneurs." You can see the full list below.
This Done-For-You Package Includes:
24 Lists/Challenges in DOCX and TXT files
PLR / Commercial Use Rights
Total Value = $100


Only $17
What You Get In This Set of 30-Day Challenges & Top Things Lists
Content Includes:
2 week strategy and content plan with topics to launch a coaching class, a video class
30 Day blog content plan for launching a coaching class
30 day challenge for a content plan for lifestyle bloggers
30 day challenge for writing an ebook with action steps
30 day challenge to creating a lifestyle blog
30 day content plan and subject lines for emails for coaches
30 day content plan for a blog for coaches
30 day gratitude challenge with daily prompts
30 day healthy eating challenge with meal plans
30 day list of blog topics for coaches that are educational, entertaining, and relatable
30 day photo challenge with prompts
30 examples of effective calls to action (CTA)_
30-day challenge to save money by quantities of $500, $1000, and $1500 with daily action steps
30-day content plan for passive income products on a blog
30-day plan of listing products for digital products
30-day self care challenge with action plan
30-day social media posting schedule
Top 10 plants entrepreneurs who are super busy
Top 30 affirmations to say
Top 30 crystals for entrepreneurs and bloggers
Top 30 one to two word mantras for bloggers to keep motivated
What are educational blog posts and examples
What are entertaining blog posts and examples
What are relatable blog posts and examples
Total Value = $100


Only $17
Stop Doing All the Things in Your Business
Instead of spending hours creating content, let us take care of it for you. Get high quality, detailed spiritual and self-help content to use as blog posts, for ebooks, in email autoresponders, courses, and more so you can focus on growing your business and making money.
Affordable Quality, Detailed Spiritual and Self Help Content
Be An Expert - Written By Helping Professionals for Helping Professionals
Get Content Your Readers Will Love
Make Money While Focusing on What You Do Best
Can Be Used In Commercial Projects
Can Edit/Change the Files in Any Way You Want
Create End-Use Products (Audio/Video)
Here's What You Cannot Do
Cannot Resell Any of These Items As Individual Files on Marketplaces (Please No Listing the Source Files or Graphics on Creative Market or Etsy). No reselling PLR rights
Cannot Pass On, Sell or Give Away These with PLR Rights, Commercial Use, or Master Resell Rights
Total Value = $100


Only $17