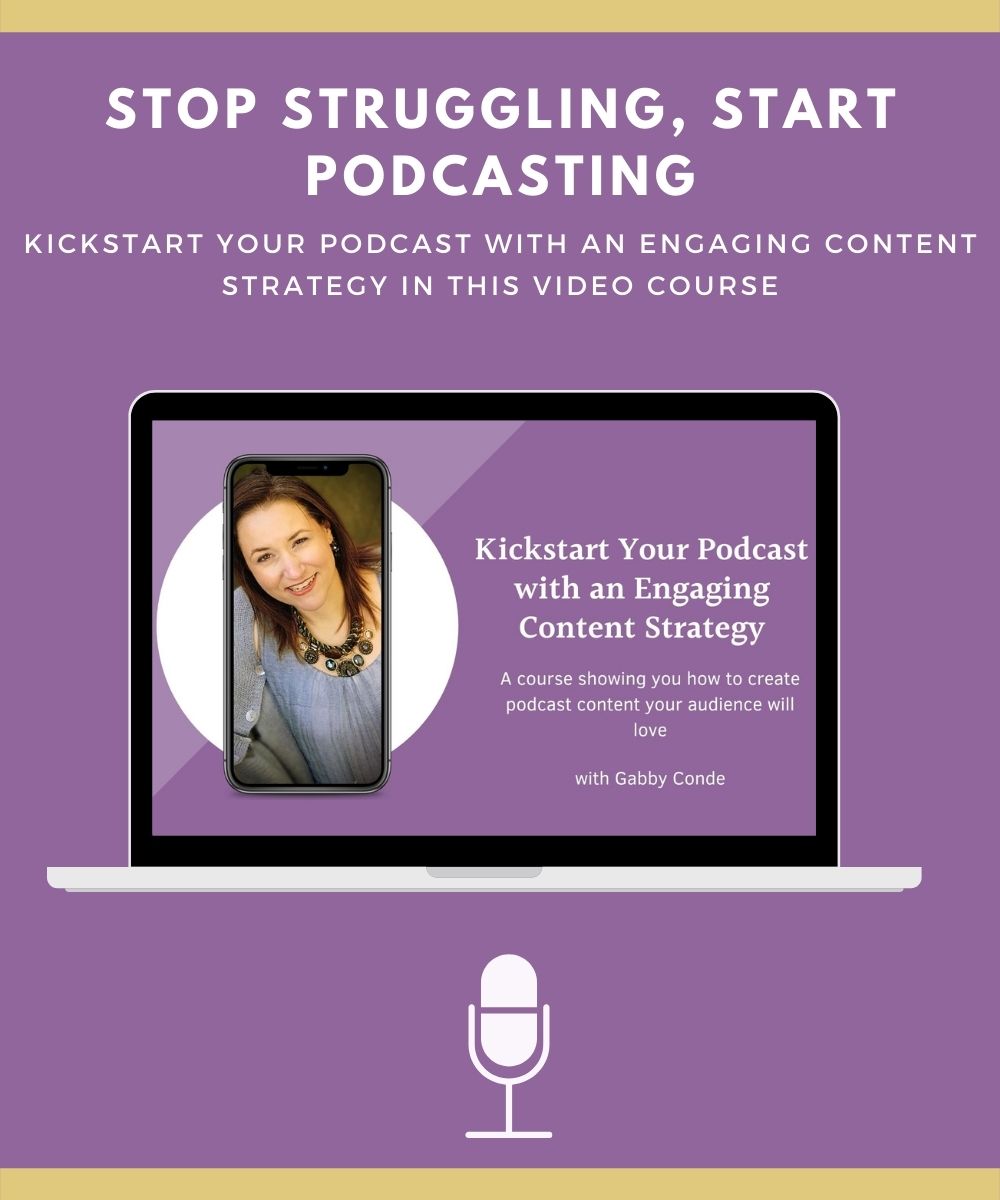 Are you tired of struggling to get listeners? You're not alone. Podcasting is hard, but it doesn't have to be. Get the tools you need to create a successful podcast today! Whether you're brand new to podcasting or looking for ways to grow your show, this course will help you build an engaged audience and increase your reach.
But, what does that mean to engage your audience? And how do you do that? Engaging your audience means giving them content they want and ask for regularly. I show you how to find what content they want. When you give them the content they want, they will keep coming back to listen to your podcast.
This Video Course Includes:
Step-by-step videos where you watch as I show you how to research and build your podcast content calendar.
I believe in using tools (as much software as possible, please) – it just makes it SO much easier and saves time. It's very easy to follow along because I break down the steps into easy-to-follow pieces.
Google sheet to keep track of your content ideas and put them into a calendar
Get Your Podcast Content the Listens It Deserves
Learn how to create an engaging content strategy that will help grow your audience and turn them into loyal subscribers
Create Content Your Listeners Want

This is the tale of two podcasters. Both are true stories…
There's a friend of mine who creates content they THINK their audience wants. And they asked me why no one was listening. I told them that they need to do a little research and find out what people want to hear that is within their niche. I shared the steps on how to do it with them, but sadly, they didn't follow through with the idea… and kept creating content they THOUGHT the audience wanted to hear. They would continually ask me how to increase the reach of their podcast, but didn't want to change the content strategy.
But, when another friend asked me what type of content they should produce, I told them to start with their blog posts because they received a lot of traffic and views. And then I sent them a list of content ideas based on quick research. They took off with it! And they received an award for 100,000 downloads a few months after that happened.
Granted, I can't claim all of the credit because my friend also used a podcast coach to help them launch their podcast, but to this day, their podcast is thriving with my nudge in the right direction for their content.
Don't be like the first friend. They're still wondering what direction they're going in with their podcast. 
Be like the 2nd friend – clear and confident with your content.
Now it's YOUR turn!
Get this course to learn how to find the topics your listeners want to hear and engage your community to turn them into loyal fans.
Why You Struggle to Get Listeners
How to Map Out Your Content Strategy
How to Come Up with a Title
How to Map Out Your Content for the Next 12 Months
Scheduling time to create your podcast
How to Write Your Content
Plus, You Also Get the Bonus of Special Segments Videos
In addition to the full course, you'll see bonus videos that are specific to certain industries and how to find content just for your industry.
Usage Rights – For the Videos/Course

Personal Use Rights
Use the videos to learn and grow in your business
Use the videos to learn how to make products you can use to sell in your business
Here's What You Cannot Do
Cannot resell the videos or use the video training as content in your business.
Cannot Pass On, Sell or Give Away These with Personal Use Rights, PLR Rights, Commercial Use, or Master Resell Rights
About Your Instructor

I've helped entrepreneurs plan their content strategy for podcasts and launch theirs on iTunes, Spotify, YouTube, and more channels. I've worked for agencies in SEO and online marketing as a Senior SEO Manager and Marketing Manager, Copywriter, Launch Strategist, Graphic Designer, Vice President of Marketing, and so many more titles. I've taught dozens how to use SEO for website copy, blogs, and more. I've studied and written copy for businesses of all kinds, including solo (1 person) businesses through Fortune 500 companies. I also get results with each client I work with because I know they want leads and sales. It is the lifeblood of their business.