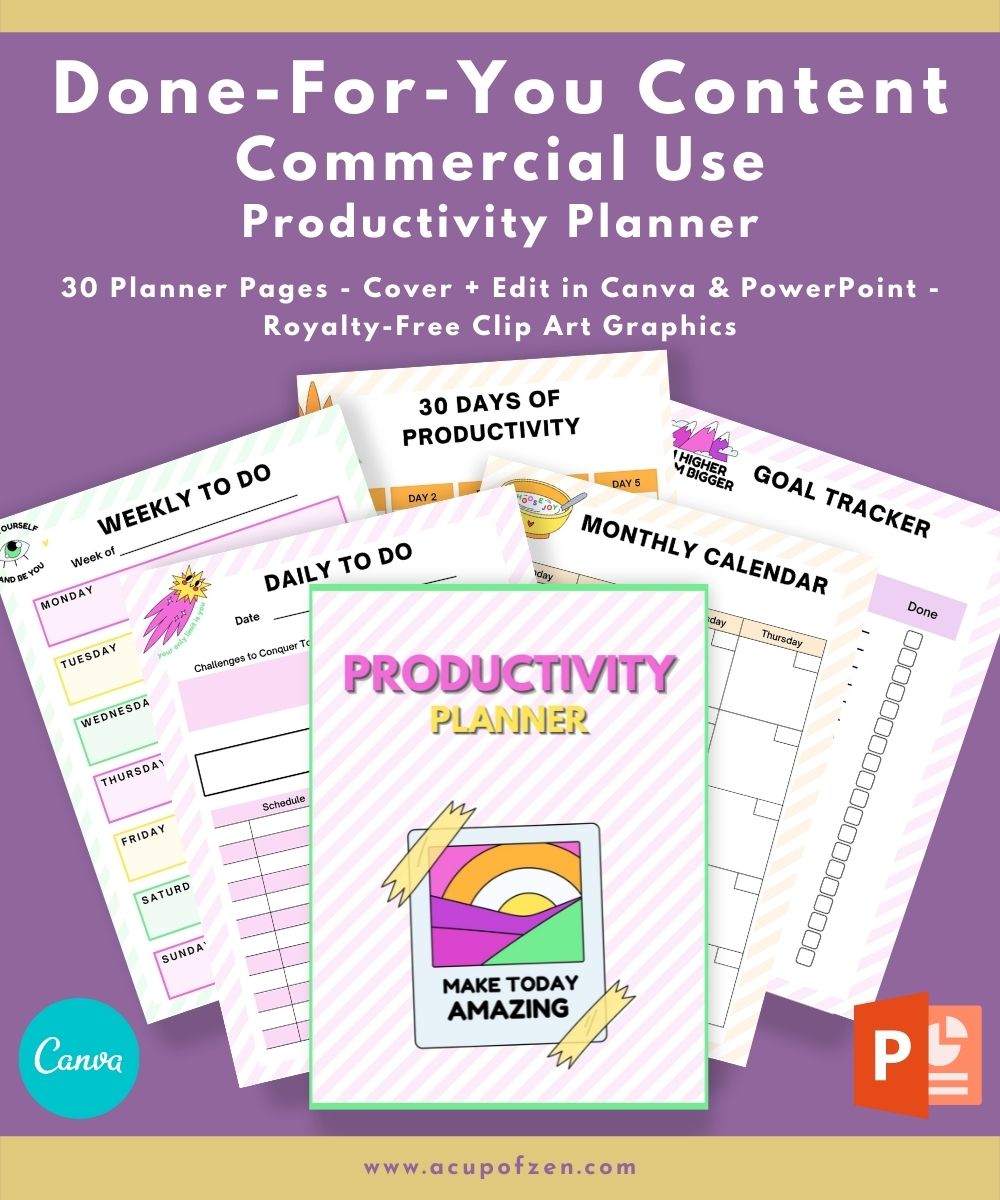 Productivity is the act of getting work done. Productivity means that you are spending your time doing valuable work instead of wasting it.
Productivity is often talked about in terms of how many hours an individual can spend working in a day, week, or month. But what really matters is the quality of the time you're spending on productive tasks and not just the length of time.
Productivity requires focus and effort, both mental and physical. The more focused you are on what you're doing, the more productive you'll be at completing your tasks.
Sell this planner in your shop to give your customers ways to increase their productivity.
This Done-For-You Package Includes:
Productivity Planner Page Templates x 30 inner pages in Canva and PowerPoint (PPTX) – Sizes include 8.5×11, 8×10, 6×9, A4 in color
1 Cover Design in Canva, PowerPoint (PPTX) – Sizes include 8.5×11, 8×10, 6×9, A4 in color
10 Color Clip Art with Positive Sayings
PLR / Commercial Use Rights
What You Get In The Productivity Planner
Being productive is one of the most important attributes of any successful individual. It has been found that people who are productive are usually happy and healthy too. There are many ways to increase productivity, but only a few work for everyone.
The first step is to have a larger goal in mind to keep you focused on your goals and long-term objectives. Write your goals down so that you can see them every day and remind yourself why you need to be more productive for them. This also helps in formulating a plan that will help you achieve those goals.
That's why we created these templates to help you create beautiful products and make money, or give them away for free! The planner has 1 cover and 30 pages of planner templates. It's easy to edit with Canva and PowerPoint (PPTX) templates in 8.5×11, 8×10, 6×9, and A4 sizes in color.
Get Templates On All of the Following:
Daily To Do
Weekly To Do x 2
Goal Tracker
Monthly Calendar (x 2)
My Why
Habit Tracker
Action Steps
To Do List
Daily Schedule
Monthly Goals
Weekly Goals
Projects
Ideas List
Setting Goals
Monthly Goals with Calendar x 12
Milestones
30 Days of Productivity
Productivity Planner Template Pages
Easy to Edit Cover and Interior Page Templates in Canva and PowerPoint (PPTX)
30 Interior Pages Done for You
Sizes Included: 8.5x11, 8x10, 6x9, A4
Use the graphics to create projects like planners, journals, and stickers to sell.
10 Unique Clip Art Graphics with Positive Sayings
Unique and Created By A Cup of Zen
Commercial Use License Included
Stop Doing All the Things in Your Business
Instead of spending hours creating content, let us take care of it for you. Get high quality, detailed spiritual and self-help content to use as blog posts, for ebooks, in email autoresponders, courses, and more so you can focus on growing your business and making money.
Affordable Quality, Detailed Spiritual and Self Help Content
Be An Expert - Written By Helping Professionals for Helping Professionals
Get Content Your Readers Will Love
Make Money While Focusing on What You Do Best
Can Be Used As Your Branding (Not Exclusive Rights)
Can Be Used In Commercial Projects
Can Edit/Change the Files in Any Way You Want
Yes, You Can Create Stickers, Print-on-Demand Products, Planners, Journals, Coloring Books, Use in Membership Sites, and Create Any Other Type of Product for Commercial Use in an End Product (You Can Create a PDF File, a T-Shirt, Ebook, Blog Post, Planner, Journal, Etc)
Use the graphics (s) to create an end product (any product you wish to create that requires some skill or effort) in one of these ways:
A customized product using the item (social media posts, print-on-demand product)
Any end product that uses the item along with other items in a larger body of work (planner, journal, stickers)
Here's What You Cannot Do
Cannot Resell Any of These Items As Individual Files on Marketplaces (Please No Listing the Source Files or Graphics on Creative Market or Etsy). No reselling PLR or Commercial Use rights
Cannot Pass On, Sell or Give Away These with PLR Rights, Commercial Use, or Master Resell Rights