Lion Spirit Animal: The King of the Jungle
The lion is known as the king of the jungle, and it is no surprise that it has become a popular spirit animal. With its strength, courage, and majestic presence, the lion spirit animal represents power, confidence, and leadership. If the lion is your spirit animal, it may symbolize that you have these qualities within you or that you are in the process of developing them.
This pack comes with a collection of journal and card templates, graphics, and an epic 1000+ word blog post.
Comes with already done-for-you cover with 7 interior pages, graphics sets, blog post, and Spirit Animal Oracle Cards for the Lion. The journal and card templates come in Canva or PowerPoint.
This Done-For-You Package Includes:
1 Epic Done-For-You Blog Post (1000+ Words)
1 Hand-Painted Watercolor Image File (300 DPI)
1 Hand-Painted Watercolor Background Image
7 Journal Page Templates and Cover Using the Graphics of the Peacock Spirit Animal in Canva and PowerPoint in 8.5″x11″
2 Front Styles of the Spirit Animal Oracle Card Templates and 1 Back Style in Canva and PowerPoint in 2.75″ x 4.75″
Commercial Use / PLR Rights
Now available with an expanded graphics pack with at least 5 sets of graphics to use as commercial use and create more products.
Total Value = $150
Only $27
The Spirit Animal Guide Collection
The Divine Diversity: Expanded Spirit Animals
1 Epic Done-For-You Blog Post (1000+ Words)

1 Hand-Painted Watercolor Image File (300 DPI)

1 Hand-Painted Watercolor Background Image

7 Journal Page Templates and Cover Using the Graphics of the Peacock Spirit Animal in Canva and PowerPoint in 8.5″x11″

2 Front Styles of the Spirit Animal Oracle Card Templates and 1 Back Style in Canva and PowerPoint in 2.75″ x 4.75″

Commercial Use / PLR Rights
1 Epic Done-For-You Blog Post (1000+ Words)

1 Hand-Painted Watercolor Image File (300 DPI)

1 Hand-Painted Watercolor Background Image

7 Journal Page Templates and Cover Using the Graphics of the Peacock Spirit Animal in Canva and PowerPoint in 8.5″x11″

2 Front Styles of the Spirit Animal Oracle Card Templates and 1 Back Style in Canva and PowerPoint in 2.75″ x 4.75″

Commercial Use / PLR Rights

4 Additional Graphics Packages Include:

Kids Lion Graphics Pack

Mystical Lion Graphics Pack

Line Art & Watercolor Lion Graphics Pack

Watercolor Lion Graphics Pack
Here's What You Get In The Divine Diversity: Expanded Spirit Animals Package
1 Epic Done-For-You Blog Post (1000+ Words)
1 Hand-Painted Watercolor Image File (300 DPI)
1 Hand-Painted Watercolor Background Image
7 Journal Page Templates and Cover Using the Graphics of the Peacock Spirit Animal in Canva and PowerPoint in 8.5″x11″
2 Front Styles of the Spirit Animal Oracle Card Templates and 1 Back Style in Canva and PowerPoint in 2.75″ x 4.75″
Commercial Use / PLR Rights
4 Additional Graphics Packages Include:

Kids Lion Graphics Pack
Mystical Lion Graphics Pack
Line Art & Watercolor Lion Graphics Pack
Watercolor Lion Graphics Pack
1 Epic Done-For-You Blog Post (1000+ Words)

Done-For-You Journal Templates in PowerPoint & Canva
Easy to Edit Cover and Interior Page Templates in Canva and PowerPoint
7 Interior Page Layouts Done for You
Helpful Pages Based on the Epic Blog Post
Sizes Included: 8.5×11, 8×10, 6×9, and A4
Easy to Edit Colors, Layout, and Text
Done-For-You Spirit Animal Oracle Cards
Easy to Edit Templates in Canva and PowerPoint
2 Front & 1 Back Card Layouts Done for You
Helpful Spirit Animal Message Based on the Epic Blog Post
Sizes Included: (70 x 120 mm) – 2.75″ x 4.75″
Easy to Edit Colors, Layout, and Text
Done-For-You Graphics Packs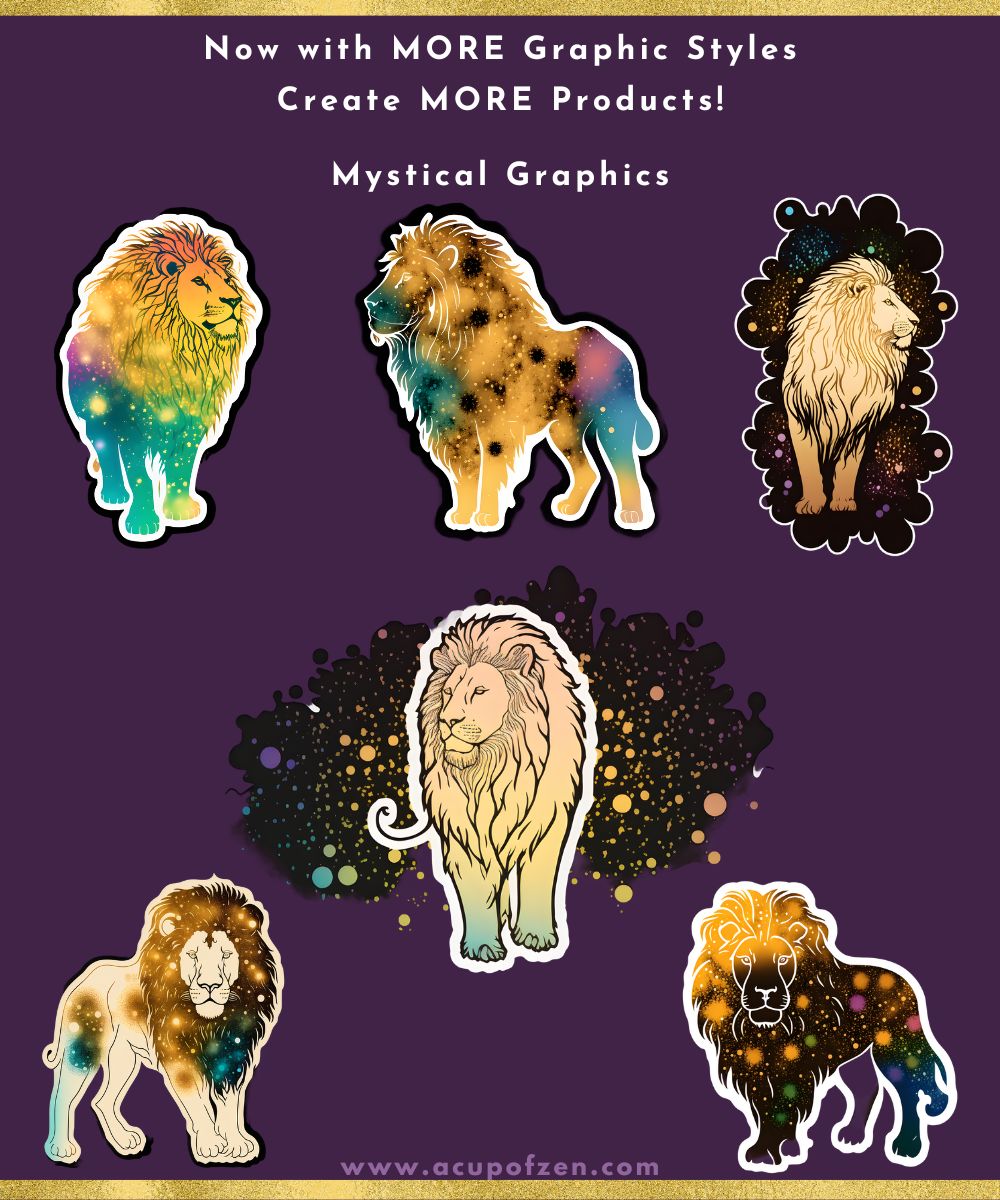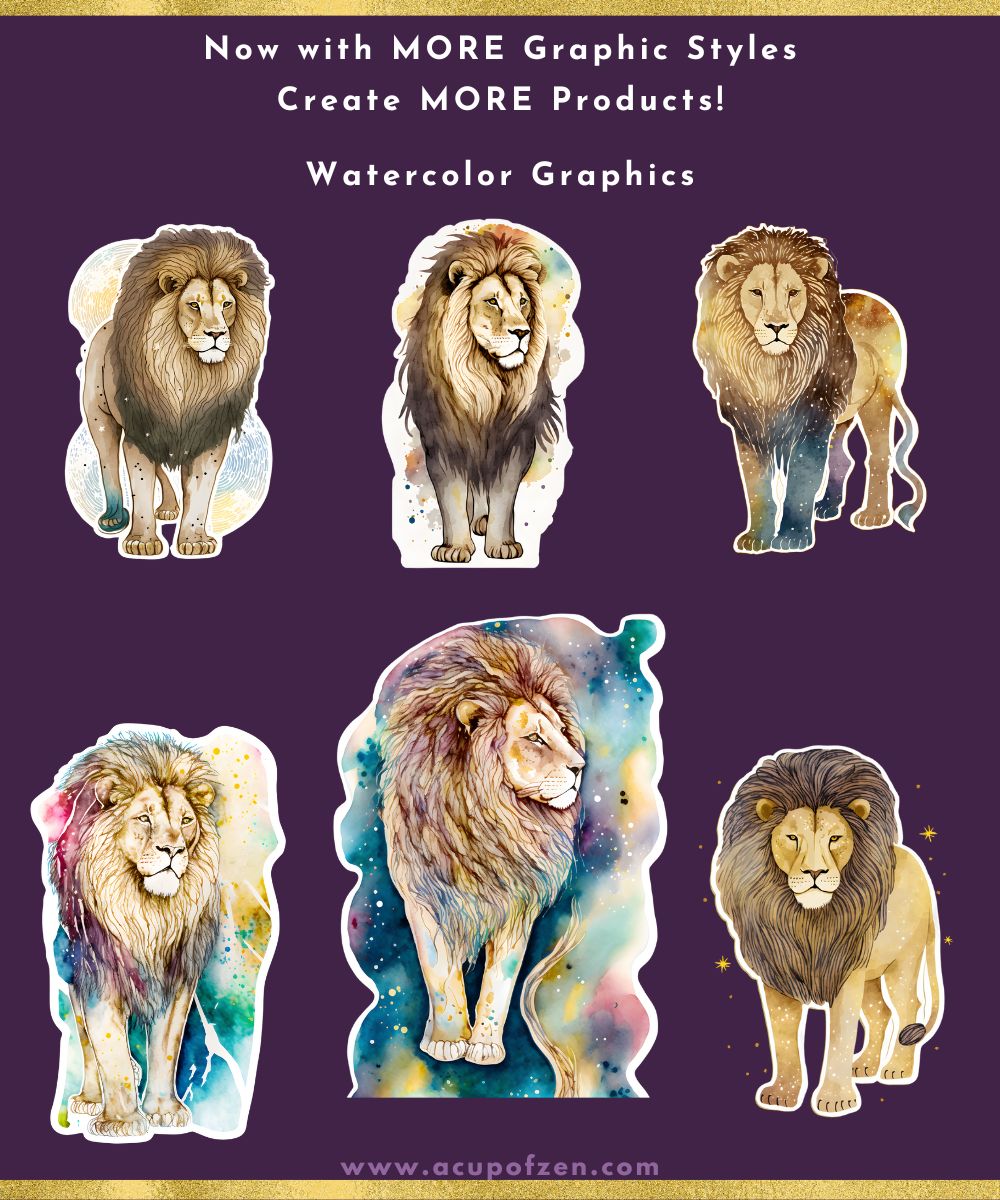 Use the item (s) to create an end product (any product you wish to create that requires some skill or effort) in one of these ways:
A customized product using the item (social media posts, print-on-demand product)
Any end product that uses the item along with other items in a larger body of work (planner, journal, stickers)
Can Be Used In Commercial Projects
Can Edit/Change the Files in Any Way You Want
Yes, You Can Create Stickers, Print-on-Demand Products, Planners, Journals, Coloring Books, Use in Membership Sites, and Create Any Other Type of Product for Commercial Use in an End Product (You Can Create a PDF File, a T-Shirt, Ebook, Blog Post, Planner, Journal, Etc)
Here's What You Cannot Do
Cannot Resell Any of These Items As Individual Files on Marketplaces (Please No Listing the Source Files or Graphics on Creative Market or Etsy). No reselling PLR rights
Cannot Pass On, Sell or Give Away These with PLR Rights, Commercial Use, or Master Resell Rights
The Spirit Animal Guide Collection
The Divine Diversity: Expanded Spirit Animals
1 Epic Done-For-You Blog Post (1000+ Words)

1 Hand-Painted Watercolor Image File (300 DPI)

1 Hand-Painted Watercolor Background Image

7 Journal Page Templates and Cover Using the Graphics of the Peacock Spirit Animal in Canva and PowerPoint in 8.5″x11″

2 Front Styles of the Spirit Animal Oracle Card Templates and 1 Back Style in Canva and PowerPoint in 2.75″ x 4.75″

Commercial Use / PLR Rights
1 Epic Done-For-You Blog Post (1000+ Words)

1 Hand-Painted Watercolor Image File (300 DPI)

1 Hand-Painted Watercolor Background Image

7 Journal Page Templates and Cover Using the Graphics of the Peacock Spirit Animal in Canva and PowerPoint in 8.5″x11″

2 Front Styles of the Spirit Animal Oracle Card Templates and 1 Back Style in Canva and PowerPoint in 2.75″ x 4.75″

Commercial Use / PLR Rights

4 Additional Graphics Packages Include:

Kids Lion Graphics Pack

Mystical Lion Graphics Pack

Line Art & Watercolor Lion Graphics Pack

Watercolor Lion Graphics Pack