Spirit Animals Done-For-You Monthly Package
Done-For-You Content and Graphics
Imagine Something Fresh & Unique To Share Every Month!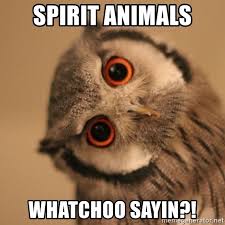 Your people are interested in spiritual topics and how they apply to their life. I've got a theme of content you're going to love publishing.
Let me tell you all about it.
Spirit Animals!
How many memes and social posts have you seen about Spirit Animals? If you're not in the loop yet, let me tell you – it's a LOT!
Have you wanted to publish spirit animal content, but didn't know how to or anything about spirit animals?
A Cup of Zen is releasing a monthly package with a different spirit animal every month.
Spreading the word about spirit animals to your audience is so helpful for them in trying times to overcome fear and other lower emotions. A spirit animal is a symbol of who the person is and what they want to achieve.
Spirit Animals are those that have a very special connection with a person or group. They come in many forms and some of them are more common than others. If you think about it, if there is a spirit animal for you and your life then this can help you gain strength and courage as well as to bring you peace of mind.
This Done-For-You Package Includes:
Spirit Animal of the Month – Lion
You Get:
1 Epic Blog Post (1000+ Words) on the Spirit Animal of the Month
1 Hand-Painted Watercolor Image File (300 DPI) of the Spirit Animal of the Month
1 Hand-Painted Watercolor Background Image for the Spirit Animal of the Month
5 Journal Page Templates and Cover Using the Graphics of the Spirit Animal of the Month in Canva and PowerPoint in 8.5″x11″
3 Oracle Card Designs (2 Front and 1 Back)
Commercial Use Rights
This Month's Spirit Animal:
February Release: Lion
March Release: Koala
And It's Ready for You Now with Annual and Monthly Options
Total Value = $150


Only $15
Monthly – $15/mo
Every month you will receive access to a new spirit animal package for only $15/mo.
Annual – $150/year
Choose the Annual option and get 2 months for free

Spirit Animals Are A Popular Self-Help Topic
Here's an example of how popular spirit animals are in search
That's 90,500 searches per month just for the word "spirit animals"
There are 74,000 searches per month with people looking for "what is my spirit animal"
People are HUNGRY for this information in the Self-Help niche! People LOVE learning about themselves.
Here's What You Get In The Package
Total Value = $150


Only $15/mo
Monthly: Every month you will receive access to a new spirit animal package for only $15/mo.
Or
Annual: Choose the Annual option and get 2 months for free for only $150/year

1 Epic Done-For-You Blog Post (1000+ Words)

Done-For-You Journal Templates in PowerPoint & Canva
Easy to Edit Cover and Interior Page Templates in Canva and PowerPoint
7 Interior Page Layouts Done for You
Helpful Pages Based on the Epic Blog Post
Sizes Included: 8.5x11, 8x10, 6x9, A4
Easy to Edit Colors, Layout, and Text
Done-For-You Watercolor Graphics
Use Done-For-You Content In
Total Value = $150


Only $15/month
Monthly: Every month you will receive access to a new spirit animal package for only $15/mo.
Or
Annual: Choose the Annual option and get 2 months for free for only $150/year

Can Be Used As Your Branding (Not Exclusive Rights)
Can Be Used For Opt-Ins And Products As Your Brand
Can Be Edited With Your Brand Colors And Styles, Whatever You Can Imagine
Can Be Printed And Used As A Physical Book Or Ebook With Your Content
Can Be Used In Commercial Projects
Can Edit/Change the Files in Any Way You Want
Yes, You Can Create Stickers, Print-on-Demand Products, Planners, Journals, Coloring Books, Use in Membership Sites, and Create Any Other Type of Product for Commercial Use in an End Product (You Can Create a PDF File, a T-Shirt, Ebook, Blog Post, Planner, Journal, Etc)
Here's What You Cannot Do
Cannot Resell Any of These Items As Individual Files on Marketplaces (Please No Listing the Source Files or Graphics on Creative Market or Etsy). No reselling PLR rights
Cannot Sell or Give Away These with PLR Rights or Master Resell Rights
Cannot Give Away or Sell Source Files to Clients, Customers, or Anyone Else
Cannot List or Sell on Auction Sites As Is Without Rebranding and Adding Your Own Content
Cannot Add My Name, Business Name, or Connect Me With Your Content In Any Way
Total Value = $150


Only $15
Every month you will receive access to a new spirit animal package for only $15/mo.
Or
Choose the Annual option and get 2 months for free for only $150/year