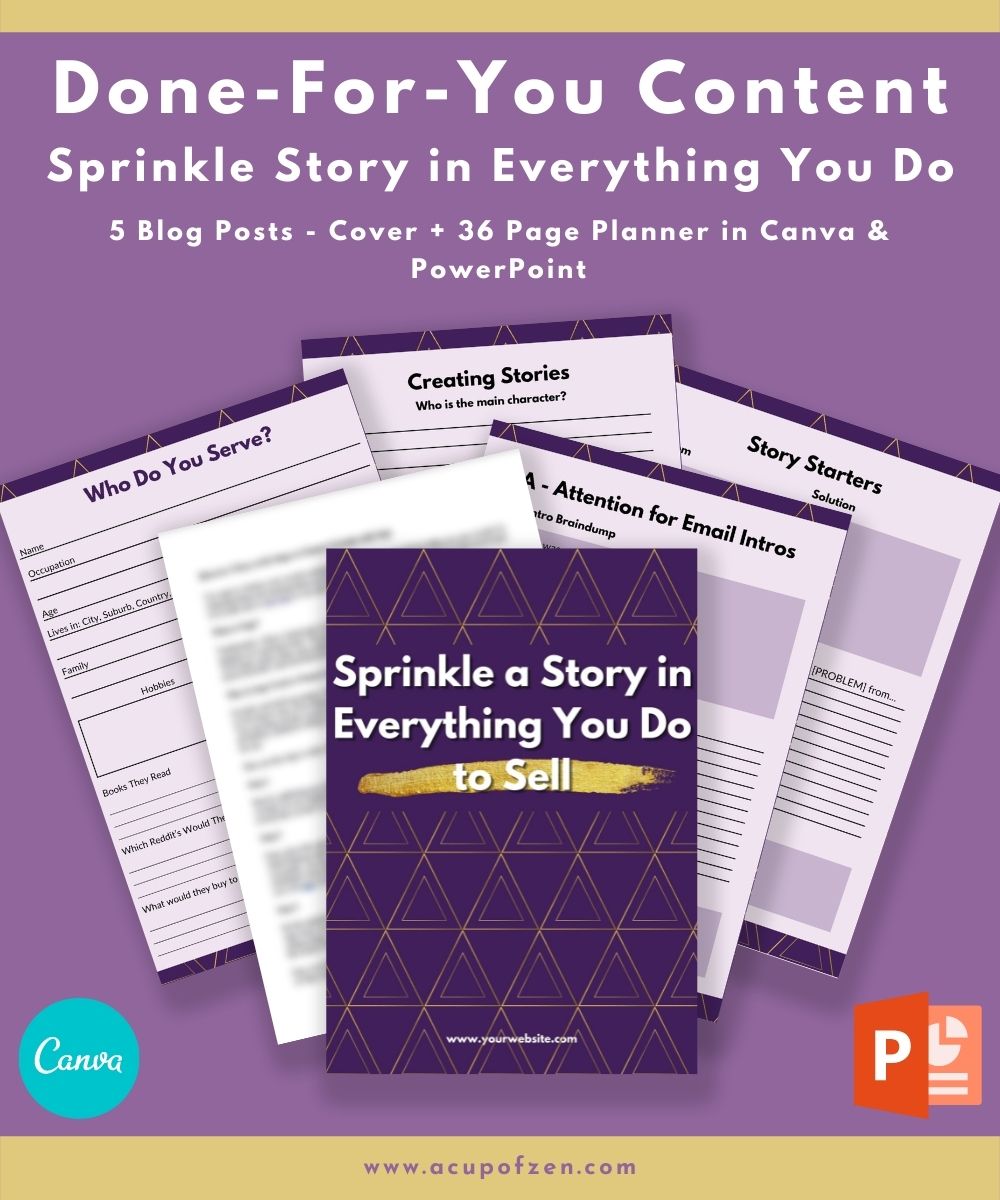 Stories are a powerful way to influence, motivate, and persuade. They are the best way to connect with ideal clients on an emotional level. The power of stories can be used in marketing by creating customer personas based on real life examples, using stories in ads, and telling company origin stories.
As humans, we all love a good story. We are often influenced by our friends' opinions when making big decisions or even what we read in the news. Stories can capture people's attention because they tell us how someone else has found success in something that might be similar to our own circumstances.
People remember stories much better than facts and stats. The content they provide is more engaging because it's relatable and it draws the reader into a world full of imagination.
Sell this workbook in your shop to give your customers ways to use stories in their content. You can add to it or use some of the pages to create unique workbooks for your customers.
This Done-For-You Package Includes:
5 Blog Posts 
1 Cover Design in Canva, PowerPoint (PPTX) – Sizes include 8.5×11, 8×10, 6×9, A4 in color
Workbook Templates (36 interior pages) in Canva and PowerPoint
PLR / Commercial Use Rights
Total Value = $250


Only $47

What You Get In The Sprinkle Story Pack
Use these blog posts to boost traffic to your site and get your customers interested in having a mini-meditation retreat.
Why Use Story in Marketing Content
A Step-By-Step Guide to Storytelling for Sales Success
What is AIDA and How It Draws Customers to Your Business
How to Use AIDA in Your Email Marketing Campaigns
How to Use the AIDA Framework for Any Marketing Content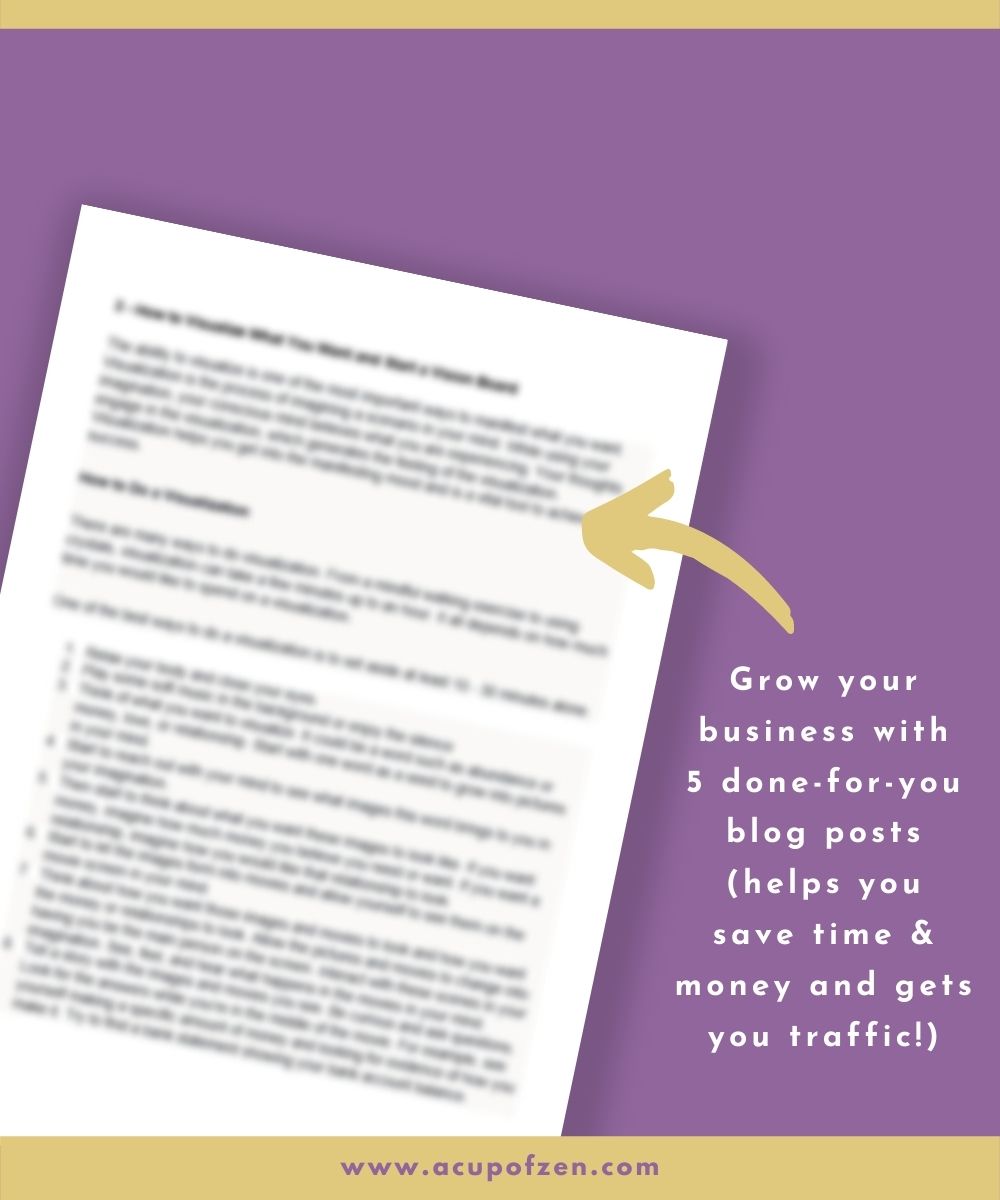 Story & AIDA Workbook Templates – Make Money or Give it Away!
Help your customers plan out their stories to use in multiple forms of content, including emails, social media, video, sales copy, and blog posts.
That's why we created these templates to help you create beautiful products and make money, or give them away for free! You can add your own brand or look to the workbook. The workbook has 1 cover and 36 pages of templates. It's easy to edit with Canva and PowerPoint (PPTX) templates in 8.5×11, 8×10, 6×9, and A4 size in color.
Get Templates On All of the Following:
Who Do You Serve?
Ideal Customer
Creating Stories
A – Attention for Subject Lines, Social Media, Sales Pages, Video, Blog Posts
A – Attention for Content
Story Starters
I – Interest for Subject Lines, Social Media, Sales Pages, Video, Blog Posts
D – Desire Starters
A – Action Starters
Calls to Action Checklist
AIDA Worksheet
Benefits Braindump
Monthly Content Schedule
Weekly Content Planning
AIDA Plan
Sprinkle Story Workbook Template Pages
Easy to Edit Cover and Interior Page Templates in Canva and PowerPoint (PPTX)
36 Interior Page Layouts Done for You
Sizes Included: 8.5x11, 8x10, 6x9, A4
Total Value = $250


Only $47

Stop Doing All the Things in Your Business
Instead of spending hours creating content, let us take care of it for you. Get high quality, detailed spiritual and self-help content to use as blog posts, for ebooks, in email autoresponders, courses, and more so you can focus on growing your business and making money.
Affordable Quality, Detailed Spiritual and Self Help Content
Be An Expert - Written By Helping Professionals for Helping Professionals
Get Content Your Readers Will Love
Make Money While Focusing on What You Do Best
Can Be Used As Your Branding (Not Exclusive Rights)
Can Be Used In Commercial Projects
Can Edit/Change the Files in Any Way You Want
Yes, You Can Create Stickers, Print-on-Demand Products, Planners, Journals, Coloring Books, Use in Membership Sites, and Create Any Other Type of Product for Commercial Use in an End Product (You Can Create a PDF File, a T-Shirt, Ebook, Blog Post, Planner, Journal, Etc)
Use the graphics (s) to create an end product (any product you wish to create that requires some skill or effort) in one of these ways:
A customized product using the item (social media posts, print-on-demand product)
Any end product that uses the item along with other items in a larger body of work (planner, journal, stickers)
Here's What You Cannot Do
Cannot Resell Any of These Items As Individual Files on Marketplaces (Please No Listing the Source Files or Graphics on Creative Market or Etsy). No reselling PLR rights
Cannot Pass On, Sell or Give Away These with PLR Rights, Commercial Use, or Master Resell Rights
Cannot Use the Vectors in ANY FORMAT (including Procreate Brushes) that uses them as-is or passes on commercial use rights. These must be used in a for-sale product in the form of PDF or print-on-demand product
Total Value = $250


Only $47