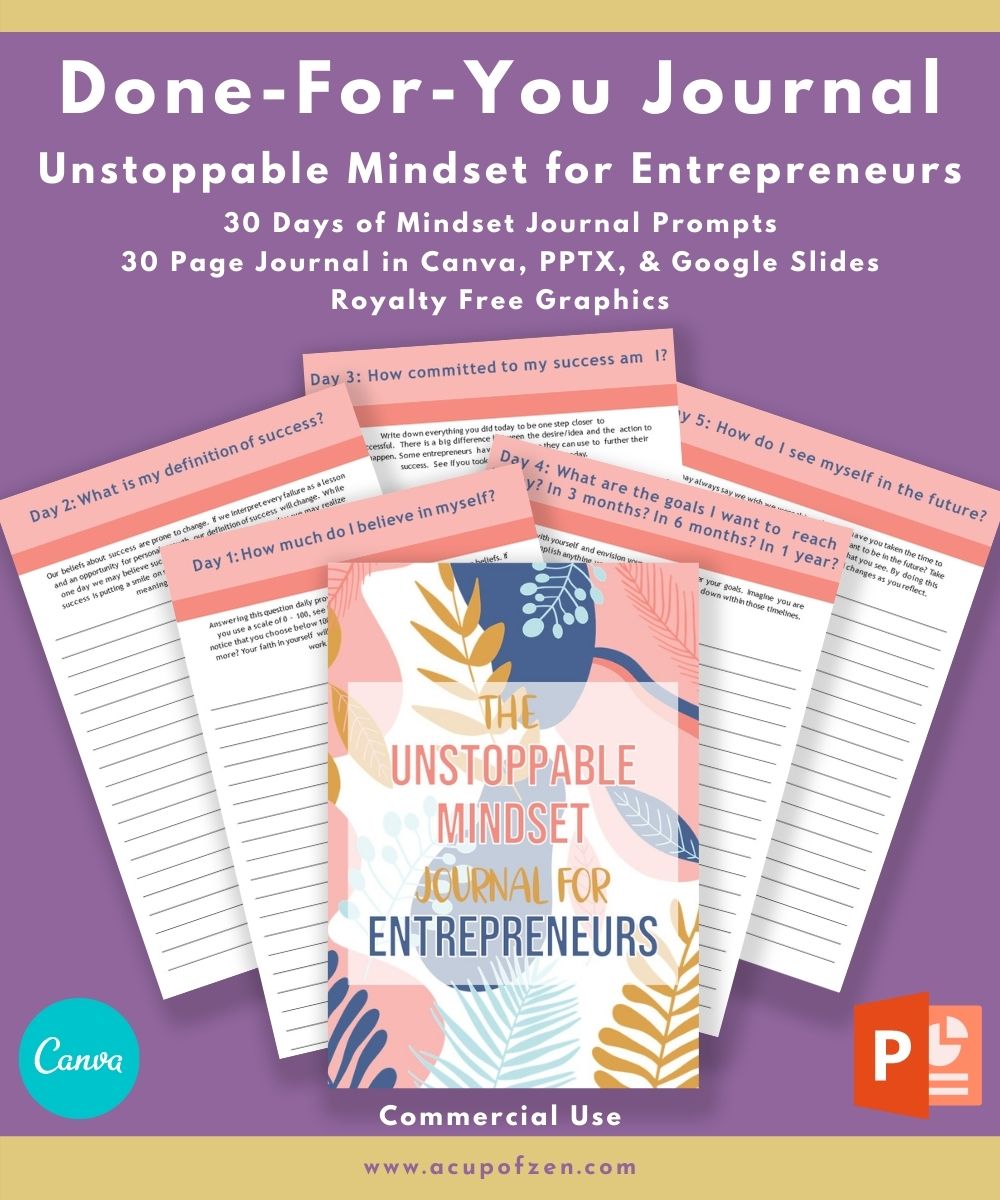 Help your customers develop an unstoppable mindset with 30 days of journal prompts. Help them find their motivation through questions and insight they gain through journaling. The journal features prompts that focus on commitment, strengths, and more to help them explore their mindset and work to change it to be unstoppable.
This Done-For-You Package Includes:
30 Prompts for Mindset in Word Document and Text File
1 Cover Design
1 Full Journal with Templates in Canva, PPTX, and Google Slides in 8.5″ x 11 and " 8 x 10 sizes in color and grayscale
14 Shape Graphics in Black in 300 DPI in PNG
72 Shape Graphics in Color in 300 DPI in PNG
Commercial Use / PLR Rights
Total Value = $550
Only $27

Here's What You Get In The Package
30 Prompts for an Unstoppable Mindset in Word Document and Text File

Journal with Unstoppable Mindset Prompts
1 Cover Design & 30 Interior Pages
PowerPoint (PPTX), Canva, and Google Slides Templates
Shape Graphics in Black Silhouette
5 Colors for Each of the 14 Shapes
Cover Backgrounds with & without Title
How Can You Use the Unstoppable Mindset for Entrepreneurs pack?
Use the prompts in your classes or as bonuses for your coaching
Sell journals on your website, Etsy, and Shopify store
Change the graphics to make tons of new planners/journals
Use the graphics in many different commercial use products
Help you create journals faster
Doing All Of This Yourself Would Cost
Creating a done-for-you pre-written and low content package doesn't happen overnight. If you think you may get to creating your own content someday, here's how much time it would take and what it could cost.
Pre-Written Content
Research & Write =
1.5 hours
Editing = 1 hours

Total Cost = $200
Journal Templates
Design in PowerPoint and Canva =
2 hours

Total Cost = $100
Shape Graphics
Research, Sketching, & Designing =
5 hours

Total Cost = $250
By Purchasing This Package, You Save a Total of 8+ Hours and $550!
Get your time and energy back from all the hats you wear in your business.
Total Value = $550
Only $27
Use the item (s) to create an end product (any product you wish to create that requires some skill or effort) in one of these ways:
A customized product using the item (social media posts, print-on-demand product)
Any end product that uses the item along with other items in a larger body of work (planner, journal, stickers)
Can Be Used In Commercial Projects
Can Edit/Change the Files in Any Way You Want
Yes, You Can Create Stickers, Print-on-Demand Products, Planners, Journals, Coloring Books, Use in Membership Sites, and Create Any Other Type of Product for Commercial Use in an End Product (You Can Create a PDF File, a T-Shirt, Ebook, Blog Post, Planner, Journal, Etc)
Here's What You Cannot Do
Cannot Resell Any of These Items As Individual Files on Marketplaces (Please No Listing the Source Files or Graphics on Creative Market or Etsy). No reselling PLR rights
Cannot Pass On, Sell or Give Away These with PLR Rights, Commercial Use, or Master Resell Rights