When I started writing content, it took me FOREVER! I wondered if it was worth all the time and effort. But after having worked in the digital marketing industry for ages, and getting results for clients, I knew it was. However, I had a challenge. It was that I barely had the time to put into super long novella-style blog posts, let alone short blog posts. My time was mostly dictated by work and family. How was I supposed to grow a side hustle with hardly any time to write.
Back when we owned a brick-and-mortar store in 2007, I learned about PLR, also known as white label content, done-for-you content, or pre-written content. I started using some of it as ideas to kickstart my blog writing. But, after listening to some of the creators of the content, I realized I could do much more with it. I could use it almost as-is on my blog and in my ebooks and more. 
It saved me a LOT of time and effort writing! Today, I'm sharing with you fun ways to use your done-for-you content to grow your email list, make sales, and basically TAKE BACK YOUR TIME! Try using it one of these three ways and watch what happens to your list…
Create Multiple Opt-Ins to Get Your Customers' Attention
Opt-in gifts are like the freebie food samples you get at the grocery store. You know you want to try one sample! They offer something the reader wants and motivates them to go deeper into your sales funnel when they sign up. 
But having just one isn't enough. If you really want to grow your mailing list, you need multiple gifts sprinkled throughout your website. It helps appeal to people who have different interests or are looking for more than one way for you to help them.
Many customers have a lot of issues they want to be resolved at one time. If you're a spiritual or psychic coach, they may not just be looking for relationship help, but also for help in their business, with their weight, with spirituality issues, and with healing the past.
Having multiple opt-ins is especially important if you have several customer avatars. For example, you're a business coach that helps women create recurring income. Customer avatar #1 is a service provider who's looking for more passive income opportunities. She might like an opt-in gift about how to add more affiliate marketing to her business.
Customer avatar #2 is a stay at home mom who wants to make recurring income by writing books. Your opt-in gift might be a guide to self-publishing for new writers.
All of these opt-ins are tied into your business with a similar underlying theme – to help your customers make money. You're helping these women discover recurring income but you're also tailoring your opt-in gifts to meet the unique needs of each one.
2. Create Blog Content with Opt-Ins and Pop-ups
If you already have a few pieces of content that you want to use as opt-in gifts then you can find done-for-you content on these topics to post on your blog. For example, maybe you wrote a short report on how to get started with self-publishing.
Then you'd want to find and purchase some done-for-you content on the topic of Kindle publishing. Rewrite this done-for-you content and post it to your blog. Add a strong call to action inviting visitors to sign up for your short report.
Blog content is especially useful for capturing leads from SEO and social media. With SEO, you can research long-tail keywords to use in your title, meta description, and blog content. When you have your post ranking high for these terms, you can capture leads from the search engines.
On social platforms like Pinterest and Facebook, people are looking for blog content that will help them in some way with a variety of things. Be sure to share your content on these networks to bring in more readers to your blog.
When you have an opt-in available and a pop-up focused on relevant content for your blog post, then you just may have a lot of leads opt into., your mailing list every month.
3. Create Social Media Posts
Another way to use done-for-you content to grow your mailing list is to break down into social media posts. Look over a done-for-you article or blog post and take 5 sentences from it. Use those sentences as text updates on social media and link to your opt-in page.
If the done-for-you content seller included stock photo images, you can use those too. First, brand them by adding your logo or website name to them. Then upload them to social media sites. Link your followers to your blog posts to encourage sign-ups.
If you add them to Canva, you can also use them to create multiple sizes of social media posts quickly, including Facebook, Pinterest, and Instagram. You can also choose a filter you like using directly from Canva and apply it to the photos.
Done-for-you content can help you grow your list quickly and easily. Plus it helps you take back your time to enjoy doing other things like spending time with family, more time for clients, or even time for your self-care routine. Instead of spending time coming up with blog posts and writing them yourself, use pre-written content that speaks to your customers and saves you time. It's a win-win!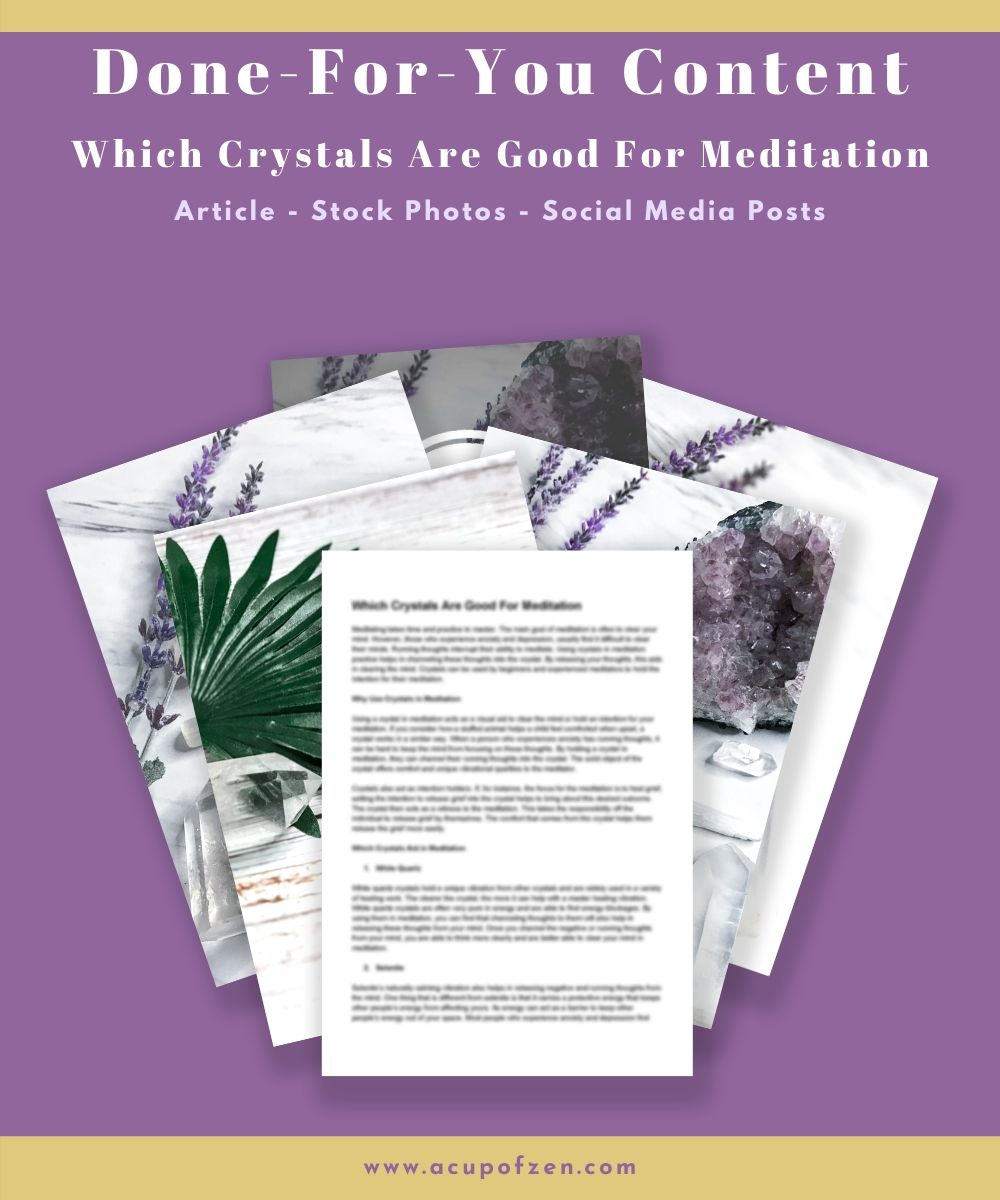 Get a Sample Pack
Get a free done-for-you content pack on the topic, "Which Crystals Are Good for Meditation." Your pack comes with an article, stock photos, and social media posts you can use for commercial use to grow your business. Register now to also learn about new done-for-you content pack releases, news, and tips to help you grow your spiritual business using content. Get your free pack below by clicking the button and going to checkout. You'll also receive the email newsletter.