Ready to produce low content in your spiritual business?
Creating low content products helps provide you with a way to add passive income or build your list. They also can work to build rapport with your audience.
But, how do you get started?
And what do you create?
In this blog post, I plan to help you discover the answers to these questions.

Why Create Low Content Resources for Your Spiritual Business?
There are many reasons why you would want to create low content resources for your spiritual business.
The resources give you a free or low-cost way to interact with you before buying services. You can offer the resources for free and build your email list by collecting subscribers who want to learn more about what you offer. Whether it is products like crystals, ebooks, or courses, people love free resources. Having plenty of them on different topics is helpful to gain people's attention and their email so that you can show up in their inbox with more information and your services or products for sale.
You create passive income. If you're not sure what passive income is, it is where you create a product one time and sell it over and over again. You no longer have to put in any work or effort to create it. Often, you can upload it to your website and set up an automated system for people to purchase your product and have it delivered to their email inbox. If you have  If you sell physical products, you can create the sales and delivery process to be semi-automated to fully automated, depending on what you are selling and the vendor through which you are selling it.
You gain email subscribers. As mentioned above, giving away free printables or other low content products is an easy way to add your potential customers to your email list. Email is the top way of selling online even compared to social media and ecommerce. You never know when a social media site may go down, de-platform you, or change its rules (yet again) to where you are no longer showing up in the search engine on the site. By creating an email list, you can have a list of customers forever and not have to worry about it being taken from you.
All of these reasons, and more point towards using low content in your spiritual business. So, let's get started.
4 Low Content Products to Use in Your Spiritual Business
Printables. Your audience will LOVE printables! Using printables helps your audience know more about your work, services, or products. They make great opt-in gifts and passive income products. You can: list them for free in exchange for traffic to your site or email opt-in, create 1-page printables to sell passively, create wall art, ebooks, workbooks, card decks, stickers, and more. Each of these items can be given away for free or listed as a paid product.
Ideas for Spiritual Businesses
In my spiritual business, A Sacred Vibe, I have printables as wall art, ebooks, and a quiz I created. Anyone who signs up for these items can download them and print them.
Here are some more ideas for what kind of printables to create:
Stationary
Greeting cards
Ebook
Workbook
Wall art
Planners
Journals
Coloring books
Bookmarks
Stickers
Gift Tags
Notebooks
And more!
In some of my pre-written content packs, I also give you editable planners, journals, and many of them come with printable pages you can use for commercial purposes.
In Manifesting with the Moon, for example, there are quite a few printable pages and workbook style pages your customers can use! Check it out here!
2. Planners. As you may have noticed, A Cup of Zen produces commercial use planners you can use in your spiritual business along with pre-written spiritual content, journals, and spiritual stock photography. You can use the planners to rebrand them to your business colors, images, and even add new graphics to them. In addition, you also get the license to sell them to your customers.
Getting started is easy because we create planners that you can design in Canva and PowerPoint, two of the easiest software programs to use! All you have to do is add your content in the form of text, images, and graphic files. If you are selling on Amazon's KDP, then you will want to make sure you change our product to be a totally new one in order to avoid duplicate content on their platform.
Selling planners is a great idea because they can help your audience in so many ways, including:
Documenting which crystals they use
Keeping up with their mood
Helping to maintain a meditation or yoga schedule
Ensuring they know the latest moon cycles or planet rotations and retrogrades
Making full use of their time for their spirituality practice
Helping them keep up with coping with anxiety or depression
And much more
Planners can be used for any topic, especially for everyday life. It makes it useful to have one planner for each hobby or practice your customer wants to explore more and achieve their goals in.
Di has a whole site full of commercial use planners you can use for your business, including spiritual ones, website planners, Etsy shop planners, faith-based, and more. Check out Di's website here!
Here is one of her digital planners below as an idea to get you started:

Want the link to check out this planner above? Here is the link to Di's Community Digital Planner.
Think of some topics that can help your customers with accountability to reach their goals or with things they need to track. Those are usually the topics that you could create a planner for opt-in or passive income use!
3. Journals. Writing in a journal is a cathartic exercise that increases your customers' connection with God, Source, or whatever they believe in, and themselves. You may think, "oh, there are too many journals out there!" But people buy journals every day! New ones are launched every day. And some people are searching for just the right journal that you just may design!
Journals can be used for any topic. You can create lined, unlined pages, list journal prompts or allow the user to come up with their own, and have a variety of different covers for one journal.
Some spiritual ideas to use in journal topics are:
Insight through meditation
My spiritual journey
Shamanic walk through the woods
Quiet inner reflection
Using Qigong energy daily reflection
How crystals help me with manifesting journal
And many more!
You can see just how each area of focus can allow your customers to reflect and get insights into what they are trying to achieve. Adding journals to your spiritual business as opt-ins or passive income products is a great way to help your customers find that inner empowerment.
Jenn has a Journal Monthly Club you can join for a low price. Each month she produces a new journal design so it takes the time and energy out of having to come up with a new product every month for you! It's a win-win! Check out the Journal Monthly Club here.
Here's an example of some of her past journals:
4. Coloring pages. Yes, even your audience and customers LOVE coloring pages. They're a great way to unwind after work and meditate. I know a few counselors who use them while talking with some of their clients over the phone, especially when handling heavy emotions. It's a way to channel emotions into coloring on the page and eventually calms your emotions to return to a peaceful state of being.
Here are some spiritual ideas for coloring pages:
Affirmation statements
Curse words
Unicorns and other mythical creatures
Leadership based
Compassionate, giving and caring
Kindness
Gratitude
Chakras
Crystals
Zentangle
And more!
There are so many ideas that can go into creating coloring pages. The affirmation statements are one of my favorites.
Check out these Amazing Affirmations from Rayven that you can use as commercial use in your business. These are from her collection of Gratitude affirmations. You can see them here!
Plus, you're not limited to just coloring pages. You can also create bookmarks, gift tags, and stationery cards with coloring images on them.
What Email Marketing Provider to Use
I recommend Active Campaign. I've tried Aweber, Get Response, iContact, Constant Contact, Campaign Monitor, MailChimp, Infusionsoft, ConvertKit,  and many more email marketing providers. Each of them offers something a bit unique from other ones. For some of you ease of use is a big factor and I can say that it was easy to use the first 4 of them to get them set up.
But, if you want an email marketing provider that will grow with you, has a variety of features, is still easy to use, and has a good pricing structure, I suggest just starting with Active Campaign.
You can easily set up lists, add contacts, automation, and campaigns, plus you can scrub your list at the click of a button. I have yet to see email providers like Infusionsoft provide this as an easy-to-do list cleanup essential.
Use Low Content Products to Create
Ready to get started creating low content products for your business? Check out A Cup of Zen's shop to see our latest offerings of pre-written content, commercial use planners and journals, and stock photography!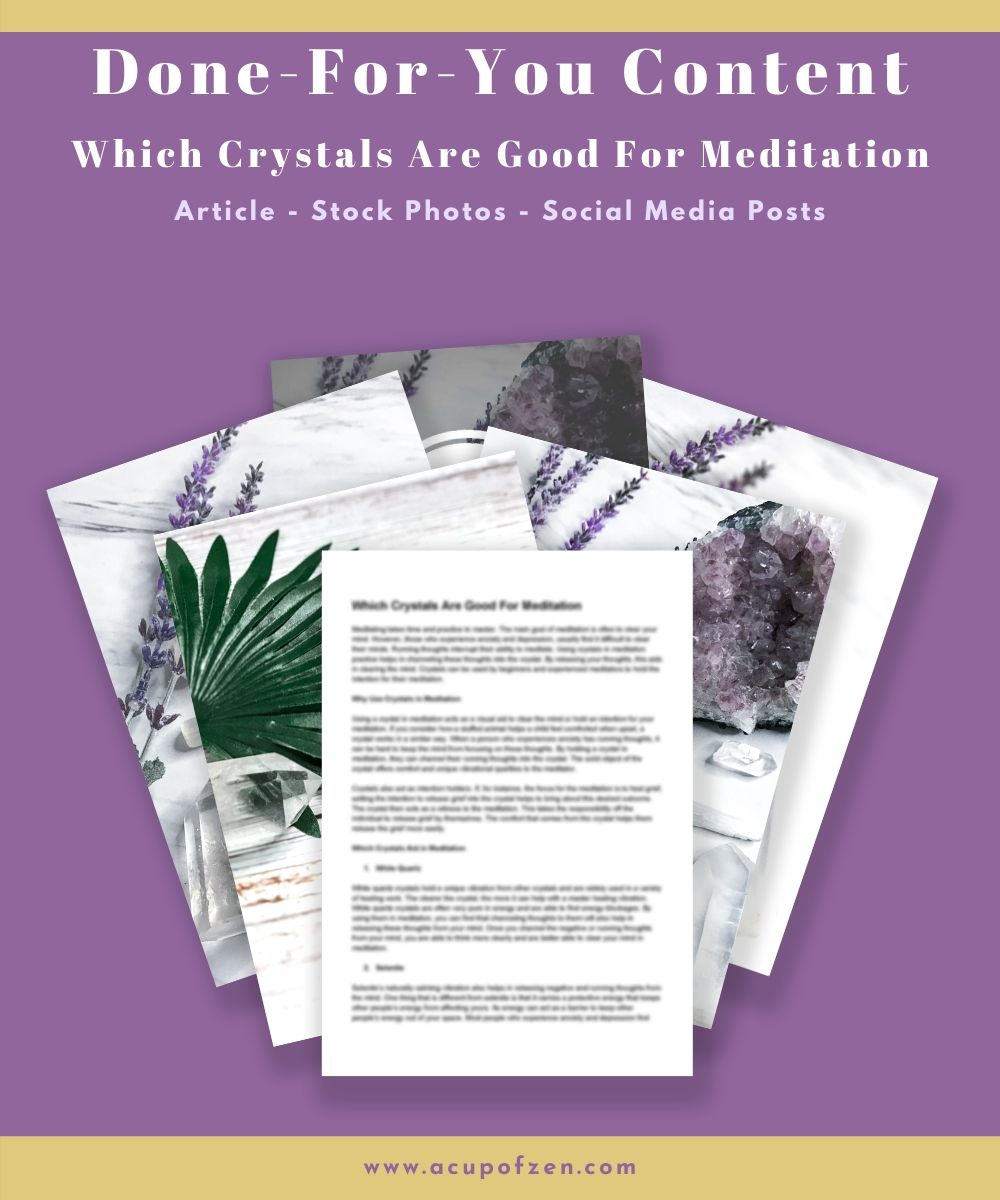 Get a Sample Pack
Get a free done-for-you content pack on the topic, "Which Crystals Are Good for Meditation." Your pack comes with an article, stock photos, and social media posts you can use for commercial use to grow your business. Register now to also learn about new done-for-you content pack releases, news, and tips to help you grow your spiritual business using content. Get your free pack below by clicking the button and going to checkout. You'll also receive the email newsletter.
Original Stock Photos (Won't Find These Anywhere Else)
Done-For-You Social Media Posts (including Pinterest)