Do you feel like you can be your authentic self, or does it always feel like you have to be "on," act a certain way or hold back? I've learned that trying to impress others or gain approval really just isn't worth it if I can't be myself in the end.
Hey, you… what's one way you can start sharing more of your true self with others (even if it seems scary at first)?
When you're using done-for-you content, here are a few tips to bring YOU into the content:
Share your expertise. Put what you know into the content. There's room for it. Even if done-for-you content seems to have everything you need to post the blog post, check again. Find spots where you can add some of your own expertise to it. You know a lot! So share it.
Share a story. Stories help people visualize what you are saying and also sell your products and services. Go through the content and add your stories wherever you can. Add stories to social media, to videos, blog posts, and more. People love stories. As you go through the content, and if any stories come up, add them in. That brings out more of YOU to the content and connects with your audience.
Share pics of yourself. Instead of going for that next stock photo or spending time looking for one, try snapping a pic of yourself or something you created. Share that! People love to see what you're doing and pics of you. Plus, it helps you connect with your audience so much more, especially on social media and your blog. No stock photo can take the place of you so be sure to share more of you in your photos.
Share a video. If you have a few minutes, record a video. Even just a 5-15 minute video will work wonders for your audience to connect with you… and for you to share more of YOU with the content. I love to do this on my websites by posting the blog first and then reading it in the video. I may add in more stories or more expertise as I go, improvising in the video. But I start from the written content and go from there. Once the video is finished, I upload it to YouTube and embed it into my blog post.
I used to have to feel SUPER ON when I led classes at a mental health facility. Instead of being super on, I started listening to what the clients said and built on top of their conversation. We got to the root of some issues they faced doing that. And it gave a lot of the other group participants examples of how to respond to things in their lives.
A boundary I drew to prevent being SUPER ON is to check in with myself before doing something. If I don't want to do a video that day, I don't push myself to do it. Same with anything else. I check in with how I'm feeling about it and then go with that. There will be other days when I feel that I'd love to do videos… and some days when I don't. I go with what feels best for me in the moment.
Ready to Get Started with Using Done-for-You Content in Your Business?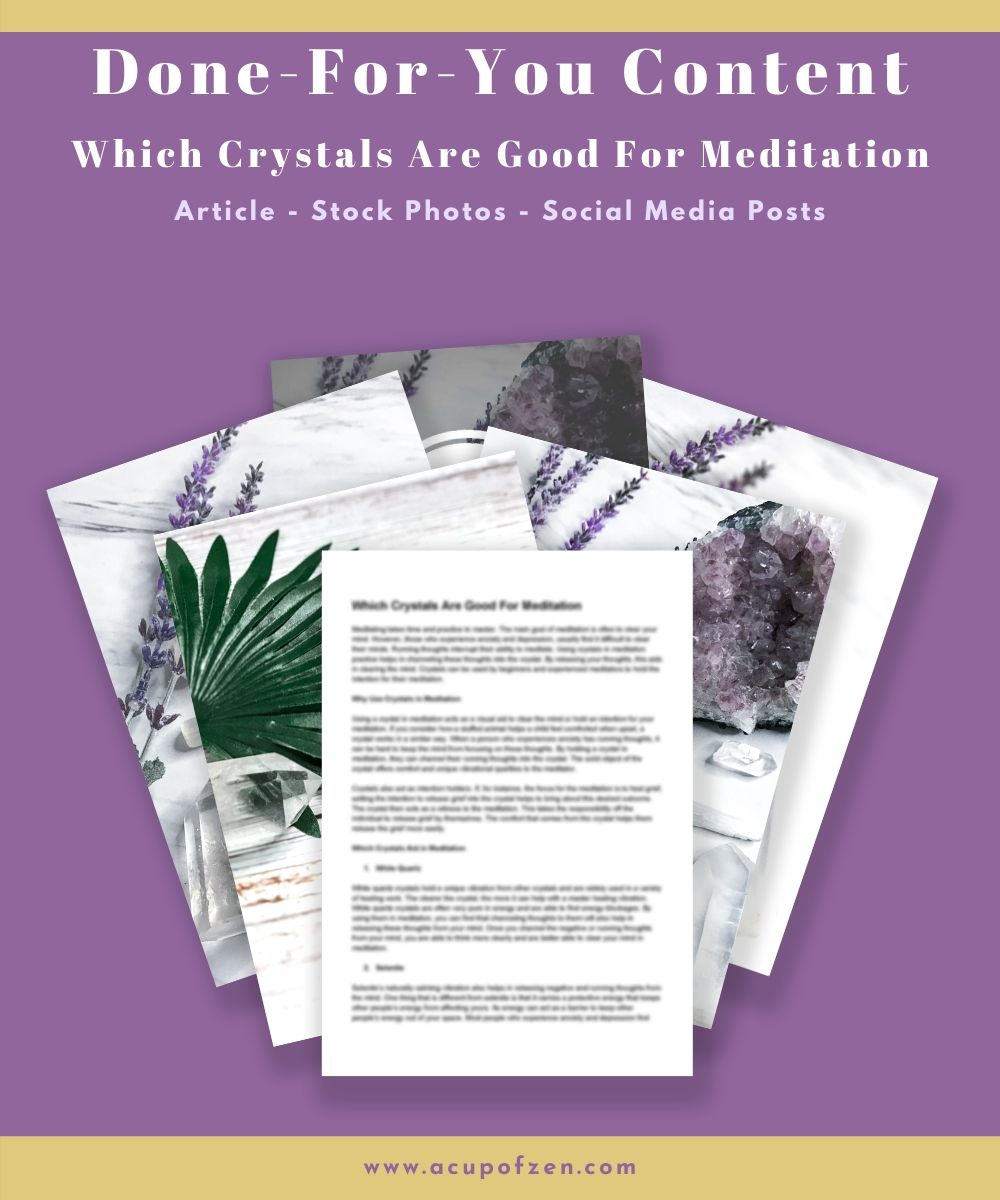 Get a Sample Pack
Get a free done-for-you content pack on the topic, "Which Crystals Are Good for Meditation." Your pack comes with an article, stock photos, and social media posts you can use for commercial use to grow your business. Register now to also learn about new done-for-you content pack releases, news, and tips to help you grow your spiritual business using content. Get your free pack below by clicking the button and going to checkout. You'll also receive the email newsletter.
Original Stock Photos (Won't Find These Anywhere Else)
Done-For-You Social Media Posts (including Pinterest)