Be sure to read below for my BONUS offer when you buy this training through my affiliate link!
Introducing Digital Planner Bonanza Video Course by Di Heuser and Marian Blake!
I had the chance to review the training and I'm excited to introduce it to you! It's cutting-edge training that not only teaches you how to create digital planners, but also gives you a template you can use, and shows you how to set up your Etsy store. In addition, they show you how to list your planners.
What You Will Learn in Digital Planners Bonanza

Lesson 1 – Digital Planners in PowerPoint Principles
Lesson 2 – Correct Page Size for Digital Planners
Lesson 3 – Tabs and Hyperlinks Basic
Lesson 4 – Tabs and Hyperlinks Advanced
Lesson 5 – Creating a cover in PowerPoint
Lesson 6 – Creating Word Stickers in PowerPoint
Lesson 7 – Use Your Imagination
Lesson 8 – Getting Ready to Sell Your Product
Extra Lessons
# 1 – Prepare Your Digital Product
# 2 – Your Etsy Store PDF Training
# 3 – Creating Your Etsy Store Video
# 4 – Setting Up Your Product on Etsy Video
How to Add Guidelines in PowerPoint
BONUS OFFER
When you purchase the main training through my affiliate link, I am gifting you some extras! They are 10 watercolor backgrounds you can use in your digital planners or any other project you have! You can use these as covers too. Plus, I've already added these to the shapes you receive in the digital planner kit you get with the training (that was a LOT of work!) All of these are created for you already.
They're ready for you in your account to download once you purchase this training through my affiliate link.
Here is what the watercolor backgrounds look like:
One-Time-Offer # 1:
Starter Pack Resources
Here's What You Get Inside the Starter Pack
A 2021 PowerPoint Digital Planner (440 pages) with Days, Weeks and Months.
Includes the following pages: Stickers, Goals, Action Plans, Blank Notes and more.
116 Pastel Geometric PNG Covers with Spiral Binding
116 Matching Glass Buttons or Flairs
116 Matching Heart Shapes
116 Matching Stickers
116 Matching Washi Tapes
BONUS
If you purchase the Starter Pack through my affiliate link, I am gifting you a glitter digital paper set with several colors and some extras coming too! Below are the glitter papers and stickers I've created as the extra for you. This bonus is ready for you in Warrior Plus.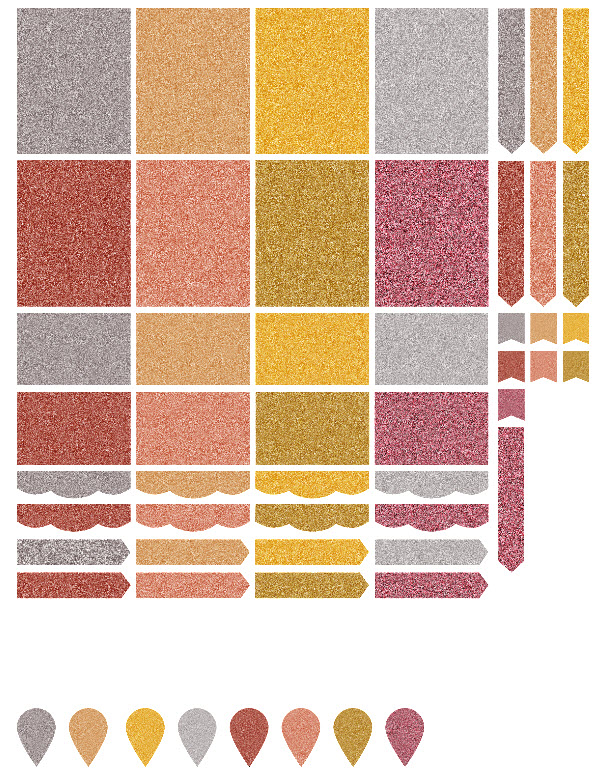 One-Time-Offer # 2
Gold Pack Resources ($67.00) Five additional pre-made PowerPoint planners and over 500 graphic resources (stickers, tabs, covers, shapes etc.) Includes a Photoshop Smart Object Realist Cover Creator and a PowerPoint Cover Creator Template.
BONUS
Here's where we are going to have some fun! I will give you 5 additional digital paper packs to use for your planners and journals. (Images coming soon) And I will show you how to add these to your shapes inside of PowerPoint. It's really easy!
I'll be adding the digital paper packs and video within 7-10 business days (sooner if I can!).
One-Time-Offer # 3
Monthly or Annual Membership ($24.95 / $249.00) Monthly delivery of a pre-made planner and additional themed graphic resources.
BONUS
Monthly resources – can we say YES YES YES!?! And I'm already a step ahead for you! In this bonus, I will give you 12 digital paper packs (some with the main holidays/seasons) to use in your digital planners and as stickers. I'll be adding 12 of these packs to your bonus within 7-10 business days (sooner if I can!). I'll also create social media posts for you to add your planners to and share on all major social media platforms, including Facebook, Instagram, Pinterest, and more! I'm "in the works" creating layouts using Canva and PowerPoint so that you can easily change the images of your digital planners to create a cohesive theme for your shop. I'll be adding 5 different layouts to your bonus and the digital paper packs within 7-10 business days (sooner if I can!).