Have you ever written a blog post with the intention of getting lots of traffic and only got a few visitors? It's all about SEO. You see, search engines don't (yet) have access to your thoughts. They can only see the words you type. So if you want to get found in Google, you have to tell Google what you're thinking. And the way to do that is with SEO. 
The good news is that you can take a few simple steps to make your blog post more search engine friendly. 
My favorite three SEO tips for writing blog posts are: 
1. Write unique, engaging content 
2. Include keywords that are relevant to your post 
3. Help your visitors take the next step (convert them)
The Importance of SEO for Blog Posts
When you write a blog post, it needs to: 
Resonate with your audience 

Get your visitors to click on it and stay on for a while 

Give them a reason to read your post
If your blog post doesn't convey any reason for your visitors to stay on your website to read it, they won't. Why? Because they get their information from other sources. Their friends, colleagues, favorite media, and the like. 
So, what happens when they leave your site? They go to the next site in their list that's optimized. 
But, you want content that will keep them around and keep them coming back.
The first step to create engaging content is to make sure that you know your audience. You must know what they want to read, what they're looking for, and create content that makes you look like "the boss," an expert who knows what they are talking about. 
Take Neil Patel's posts, for example… when I attended the Search Engine Journal Conference on SEO this past year, a lot of attendees said he is an SEO expert. But so many did not validate this thought of these attendees. They eventually asked, "Why not Neil Patel?" 
I believe it is this… He is a great help in SEO to many companies and small businesses, and solopreneurs. His content is engaging tutorials that do get results if you follow his advice.
But the main way he gets so much attention is through a network of affiliates he acquired and an established audience he built along the way. And the numbers he gives are based on that network, so it is misleading for new businesses to expect the same results from following the steps in his tutorials, or, at least, not right away. While his SEO tips do help, I believe that many in the SEO community realize where his numbers come from… with his established audience. 
But it certainly does not discredit that he knows what he is talking about in his blog posts. And he does know his audience. He writes blog posts and hosts podcasts for them to follow easy steps to reach their marketing goals. 
So if you want to create engaging content that reaches your audience, let's get to it.
Now it's your turn, answer these questions to find out what your audience wants and needs from your content:
What do people ask you about the most in email or on social media?

Have you polled your list or conducted a survey? Check your results to see what people are looking for from your blog.

What do you think your audience needs to know? 

What are your competitors writing about?

What are your competitors NOT writing about but would benefit your audience?

What would you be excited to learn about if you were just beginning on your expert journey again? Think about your beginners with this question

What else is there to know about this topic?
Three SEO Tips to Make Your Blog Posts More Search Engine Friendly
First up is your content. Any content that you write should be unique and engaging. Create an engaging headline and meta description.
2. The next thing to do is to fit your keywords in. Use at least 1 main keyword per blog post. Make sure it is in your title and description. This is also where you can do a little bit of math. Use the keyword to at least 1-2% density throughout the blog post. However, if you've studied other blog posts, you may notice they use more keyword density to about 5%. If you choose to add your keyword this many times in a blog post, make sure it flows naturally with the writing and isn't keyword stuffed. 
3. Help your visitors out with the next step. They've come to your blog for a reason… because they are looking for information or a product, course, or something else. Add a call to action throughout your post and at the end of your post. You can add an opt-in freebie gift that suits the next logical step they need to take to help them with what you've mentioned in the blog post.
For example, this post is about SEO. If I wanted to help you with SEO, I would ask you to take the next logical step, which would be to get an audit for your website. You would then enter in your name, email, and other contact information and your website, so that I could take a look at it and see how I would be able to help.
If you're selling printables and creating content around it, the next logical step would be to give your audience the chance to get a free printable from you. You would then have an opt-in form at the bottom of this post, or a link to one, where they could get the freebie in exchange for their contact information.
But the next logical step doesn't always have to be an opt-in. Google recommends a conversion also to be that they watch a video, as one example. 
There's no reason to write boring blog posts that don't attract any readers, right? No, not really. You have a lot to offer your readers, and you should make sure that your writing keeps them interested.
Start with the PLR articles from A Cup of Zen. Grab our freebie below to get a taste of what we offer your content.
Ready to Get Started with Using Done-for-You Content in Your Business?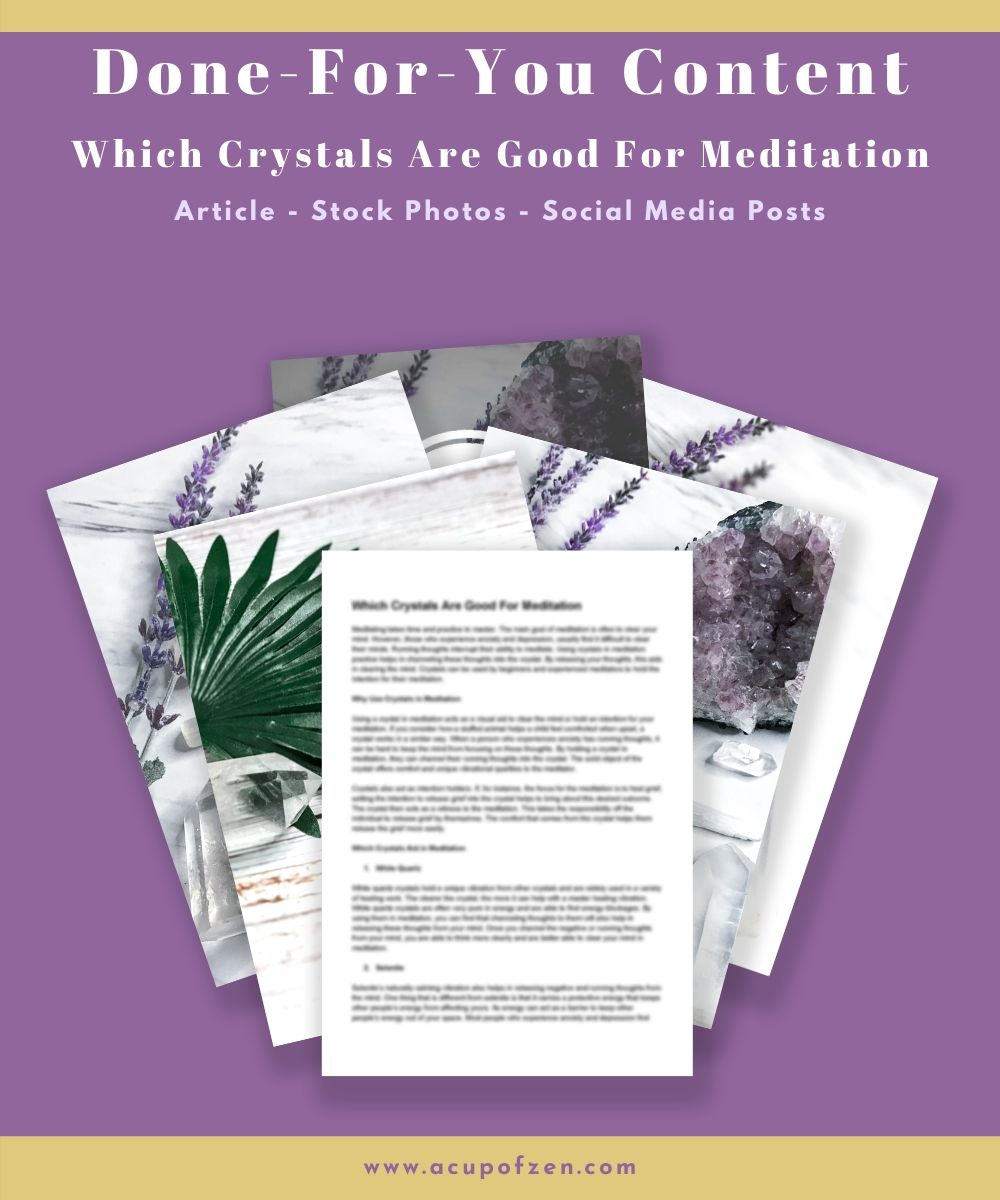 Get a Sample Pack
Get a free done-for-you content pack on the topic, "Which Crystals Are Good for Meditation." Your pack comes with an article, stock photos, and social media posts you can use for commercial use to grow your business. Register now to also learn about new done-for-you content pack releases, news, and tips to help you grow your spiritual business using content. Get your free pack below by clicking the button and going to checkout. You'll also receive the email newsletter.
Original Stock Photos (Won't Find These Anywhere Else)
Done-For-You Social Media Posts (including Pinterest)